Cooking class-Cappelletti-Passatelli-Quadrettini ripieni
5.0
Challenge yourself with a pasta-lover cooking class and enjoy an authentic Italian meal with the recipes prepared during the class
Your menu
Quadrettini stuffed with cheese ( homemade pasta ) in broth
Cappelletti (homemade pasta) with broth
Passatelli (homemade pasta) in broth
What to say! The famous comfort food here it is ! Are you ready to get involved ? In this cooking class you will make: Cappelletti i Passatelli and Quadrettini . Cappelletti is a pasta that is eaten on holidays, a pasta of tradition. Passatelli are made with few ingredients but absolute goodness , I have many memories with this pasta. Quadrettini are a pasta stuffed with cheese and is a throwback dish. These pastas are served in broth and are the dishes of winter Sundays that warm the body but especially the soul . After preparing the pastas I will cook them for you and so you can taste the dishes prepared by you , while relaxing and drinking a good glass of wine.
Reviews
Cesarine - Cooking class-Cappelletti-Passatelli-Quadrettini ripieni
We booked this cooking class to learn something about the Italian kitchen. We learned a lot of things, like how to make tiramisu, piada and most important of all strozzapreti. We had a great time, we were welcomed into Patrizia's home and met her family, who all are very nice and warm. After the class we ate everything together in the garden. The whole cooking class was a lovely experience and we would defenitly recommend it to everyone.

Lisa-Marie

 - 

September 2023

We didn't know what to expect and were simply flashed. Patricia is a magical hostess who, together with her sister, spoiled us culinary with regional specialities. The production of the pasta was an experience. The ambience is fantastic. We were able to experience real Italian hospitality. Thank you very much for this wonderful evening!

Desdemona

 - 

September 2023

Absolutely one of the best tours I have ever been on! Patrizia and her sister are such lovely people who will show you Rimini from a passionate point of view! Although we did only have 3 courses, I have learnt so much about the city of Rimini. I will definitly come back, as I have gained two wonderful friends on this trip!

Caroline

 - 

September 2023

Today we had a cooking class with Patrizia and her sister. Both of them were full of enthusiasm and had a lot of fun in what they were doing. The 3 hours flew by! The homemade food was delicious and the nice atmosphere helped extra! We can recommend it to everyone when you are near Rimini!

Ralph en Nathalie

 - 

September 2023

I spent the day with the lovely Patrizia and her equally lovely sister Cristina. After doing a little sightseeing we had an interesting visit to the fish market then onto the fruit and veg market. Fruit displays were beautiful and I saw veg I have never seen before. Then went to a local deli and onto cheese monger who sold local Italian cheese. We then went to Patrizia's home where we made and cooked Piada bread, ravioli which was served with a sage and butter sauce followed by tiramisu. We ate out feast outside served with local wine. Highlight of my holiday. Would have given it more than 5 star if I could. Thank you girls I will always remember your kindness.

Anne from Scotland

 - 

September 2023
€145.00 
per guest
(€72.50 

per child)
€145.00 per guest
€72.50 per child
Where
You'll receive the exact address after the booking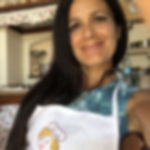 Patrizia
Cesarina from 2020
Location: Rimini    Languages: English and Italian
The house of our Cesarina Patrizia is a small jewel a stone's throw from the sea, in fact, it's surrounded by a garden with many flowers, a fragrant vegetable garden, and, in the distance, seagulls. "My passion for cooking was born when my grandmother made me get on a stool to help her cook, it was so amazing! My cuisine is simple, and strongly linked to the Romagna area".
Experiences you may like
FAQ
Families and solo travellers welcome