Cooking class in Genoa: gnocchi with pesto, dessert and more
5.0
Cooking class followed by lunch or dinner with the recipes prepared during the class.
Your menu
Calamari
Gnocchi (homemade pasta) with pesto
Genoese pandolce
Dear friends, when you come to visit me you will find a large apartment in the heart of old Genoa. The location dates back to the 1700s, owned by an old family of Genoese nobles.
It is a short walk from the largest historic center in Europe, that of the Palazzi dei Rolli in the Via Aurea Garibaldi, where time has stopped in the 16th century. The Doge with the Genoese nobles inhabited these palaces full of Baroque paintings, Persian carpets and objects from ancient China with which the Seafaring Republic of Genoa held its first sailing charters; now home to magnificent museums.
The dishes we will make together: "Calamaritto", a squid sandwich, Potato gnocchi with Pesto and a traditional dessert.
Reviews
Cesarine - Cooking class in Genoa: gnocchi with pesto, dessert and more
A pasta making class with a local has always been on my bucket list. Tiziana and her husband were the perfect hosts and truly went above and beyond to give us the best experience. Tiziana taught us how to make gnocchi and ravioli (with the best walnut sauce), and guided us through the process very clearly. This was such a special day!

My friend and I had an amazing time cooking with Tiziana. We learned so much and had a lot of fun making pasta from scratch. We also enjoyed talking with Tiziana and her husband about their lives and living in Genova. It was truly a very special experience and I would recommend it to anyone visiting. Great food, great company!

I had such a great experience with Tiziana and Roberto. I would recommend this experience as it's great for both beginners and experienced cooks. We made calamaritto , gnocchi with pesto and friscieu with zebibbo. They were incredibly kind and welcoming and would recommend as a must when visiting Genoa. I will visit again to cook the other courses that they provide.

We had such a special experience with Tiziana and Roberto. They welcomed us into their lovely home and taught us how to make delicious authentic Italian cuisine. The gnocchi & pesto, ravioli & walnut sauce, and tiramisu were outstanding. We also enjoyed getting to know Tiziana and Roberto and learning about life in Genoa. They were incredibly kind and welcoming and sharing time with the family is a memory we will cherish. If you are looking to go beyond the tourist spots and make a nice connection with locals, reserve some time with Tiziana and Roberto!
€129.00 per guest
€64.50 per child
Where
You'll receive the exact address after the booking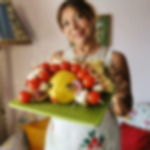 Tiziana
Cesarina from 2022
Location: Genoa    Languages: Italian and English
"The delights of Tiziana are a mix of traditional Ligurian cuisine, with Venetian and Calabrian influences . My family has origins linked to these three regions and my passion for cooking and hospitality began when I was a child. eight years I organized parties at my house and I chose the menu with my mother Maria, a Venetian who grew up in Genoa, who helped me and in the meantime I was learning. In my home, which is located in the heart of Genoa, located in a "creuza de but "one step away from the historic center of Genoa, I propose a very eclectic cuisine: from the lean cappon of the Ligurian tradition in its most sumptuous dimension, to the top treated like a divinity that is realized after long passages, to finish with pesto, prepared with the basil picked on the right day just sprouted. A cuisine that transmits love as well as taste and good humor for days and days ".
Experiences you may like
FAQ
Families and solo travellers welcome