Cooking Class on the lake: Pizzoccheri, Sciat & Tiramisu
5.0
Cooking class: learn how to cook Italian recipes and taste the dishes prepared during the class
Your menu
Sciat
White Pizzoccheri from Val Chiavenna
Tiramisù with coffee
White pizzoccheri, are the signature dish of Chiavenna, they are called pizzoccheri because of their special method of preparation, which I will be happy to explain. They are not buckwheat pizzoccheri, but if you love the flavors of Valtellina, you must try this variant as well. Sciat are savory pancakes , impossible to make if you do not have the right cheese, I will explain the technique so you can make them at home, we will make them and enjoy them together.
The recipe for tiramisu, the most desired dessert in the world will conclude our cooking class.
Reviews
Cesarine - Cooking Class on the lake: Pizzoccheri, Sciat & Tiramisu
Brava Patrizia. Best pasta ever. We enjoyed you cooking class and warm hospitality. Looking forward to making the tiramisu for my family and friends. Everyone coming to the region should have this lovely enriching experience.

We had an amazing time making pasta and tiramisu! Beautiful location, along with delicious food. Patrizia was kind and accommodating, and we were made to feel at home. We started by making a tiramisu, followed by tortelloni and tagliatelle. The advice and patience from Patrizia was very much appreciated - it was a very enjoyable experience. We also had some wonderful wine while taking in the exceptional views from the table set in the garden. We were served the pasta we had made earlier along with some beautiful homemade sauces, prepared from locally sourced ingredients and produce from the garden! It was well worth the travel across the lake (make sure to plan ahead and check boat times if you're staying further from Varenna/Bellano!) to this beautiful location in the mountains.

This was a great idea~ We had our class with Luca and Patrizia and Luca spoke English very well. Patrizia and Luca both were very informative, welcoming, and made our small group of 5 people feel right at home. Patrizia coordinated most of the cooking and Luca described most of the details in English. They have a very nice home in the mountainside and the view is spectacular. The photos from the trip were great and the food we made was delicious. We learned two pasta dishes and a desert dish, all of which we were able to eat after the cooking was completed. Their home and lifestyle made us appreciate the way they live and how truly lovely Italy is. We are so very thankful for the opportunity to share the hours with them at their home. It was literally cooking in a local residential kitchen! Questa è stata un'ottima idea~ Abbiamo avuto la nostra lezione con Luca e Patrizia e Luca parlava molto bene l'inglese. Patrizia e Luca erano entrambi molto informativi, accoglienti, e hanno fatto sentire il nostro piccolo gruppo di 5 persone proprio a casa. Patrizia ha coordinato la maggior parte della cucina e Luca ha descritto la maggior parte dei dettagli in inglese. Hanno una casa molto bella sul fianco della montagna e la vista è spettacolare. Le foto del viaggio erano fantastiche e il cibo che abbiamo fatto era delizioso. Abbiamo imparato due piatti di pasta e un piatto del deserto, che siamo stati tutti in grado di mangiare dopo che la cottura è stata completata. La loro casa e il loro stile di vita ci hanno fatto apprezzare il modo in cui vivono e quanto sia veramente bella l'Italia. Siamo molto grati per l'opportunità di condividere le ore con loro a casa loro. Stava letteralmente cucinando in una cucina residenziale locale!

Very welcoming hosts that made us feel at home. We cooked a delicious meal that we enjoyed with wine in their beautiful garden, which looked over Lake Como. Highly recommend!

Kristin Rayburn

 - 

May 2023

We really loved our time in Patrizia and Luca's home. They are very welcoming an sympathic hosts. We learned to make different type of pastas and a tiramisu. We also spent some great time speaking and learning from their lives. I would recommend those hosts for sure to anyone who wants to try this great experience.
€129.00 per guest
€64.50 per child
Where
You'll receive the exact address after the booking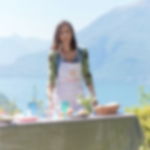 Patrizia
Cesarina from 2022
Location: Bellano    Languages: English and Italian
"My life is tied to the lake, this is where I have my roots and where I'm fine. I am a painter, my work allows me to manage time and the kitchen is for me my second workshop, where I can easily create dishes instead of paintings. My two children, now grown up and my husband were those who made me practice and love cooking. Hosting friends during the summer in the garden was an opportunity to understand that receiving guests is a pleasure and a personal enrichment. The ingredients of my recipes are all genuine, from local producers: honey, cheese, fish, directly from the fisherman in Dervio, and vegetables from my garden that my husband cares with passion for many years. Our house is a bit like the houses of the past, the fireplace and the stove allow us to warm up and cook with wood, and I must say that the result of the dishes cooked on the wood stove is very good. Also in the garden we have a kitchen and, in summer, we prepare, cook and always eat outdoors."
Experiences you may like
FAQ
Families and solo travellers welcome