Hands-on cooking class with bruschetta, 3 recipes (starter, pasta and dessert) followed by an Italian aperitivo and a 3-course menu with the recipes prepared during the class.
Your menu
tomini with green sauce
Tagliatelle (homemade pasta) with ricotta cheese and wild rocket
tiramisu with coffee and cocoa powder
Let's make egg pasta together, a basic recipe for making tagliarelle, but also ravioli, tortellini, lasagna and cannelloni.With a few simple ingredients we will prepare the pastry from which we will then make our tagliatelle. A traditional and genuine recipe that never sets and that unites all generations in the kitchen. And while our dough rests we will have fun preparing a classic tiramisu with coffee
Reviews
There are no reviews yet.
€129.00 per guest
€49.50 per child
Where
You'll receive the exact address after the booking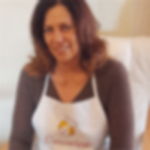 Gabriella
Cesarina from 2021
Location: Baveno    Languages: Italian, English, French
"The kitchen has fascinated me since the child, I followed carefully mom to the stove trying to learn all her recipes. Mine is a 360 degree cuisine that enhances my region, Piedmont. With my partner, wine connoisseur, who follows me in my creations, we prepare delicious lunches and dinners, respecting the tradition with particular attention to the research and selection of ingredients."
Experiences you may like
FAQ
Families and solo travellers welcome