Discover Pesaro's Food Market with a Hands-On Cooking Class
5.0
Follow your Cesarina in a local market tour, challenge yourself with a hands-on cooking class and enjoy an authentic Italian meal with the recipes prepared during the class
Your menu
Clams sautè
tagliatelle with cuttlefish and its black
Orange marmalade tart
Experience the authentic flavors of the Adriatic Sea with a market tour in Pesaro.
Located along the port, the local fish market offers a variety of fresh daily catches. Join me as we select the finest seafood and then learn how to prepare it in a hands-on cooking class. You'll be guided through the process of creating three delicious dishes: clams sauté, homemade tagliolini with cuttlefish and its ink, and an orange marmalade cake. After the cooking class, we'll sit down and savor our creations with a 3-course menu featuring the dishes we just prepared. It's an unforgettable culinary adventure that will delight your taste buds and leave you with new culinary skills.
Reviews
Cesarine - Discover Pesaro's Food Market with a Hands-On Cooking Class
esperienza piacevolissima con persone squisite, mangiato e bevuto benissimo
€189.00 per guest
€94.50 per child
Where
You'll receive the exact address after the booking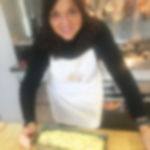 Simonetta
Cesarina from 2018
Location: Pesaro    Languages: English, Spanish, Italian
Our Cesarina Simonetta, certified taster and sommelier, welcomes us to a city of eternal charm, Pesaro, from which you can enjoy a splendid view of the sea. "My passion for cooking has accompanied me since I was a child, when, to play, I used to make piadina with my grandmother; still today, as then, cooking has remained my favorite pastime and when I'm in the kitchen I'm always charged with positive energy."
Experiences you may like
FAQ
Families and solo travellers welcome