Discover Venice's Bacari & Street Food on a Tour
4.0
Food Tour including 3 bites
Your menu
Indulge in the delicious flavors of Venice's local cuisine with a street food tour of the city's iconic bacari. Explore the traditional wine bars and sample the famous cicchetti and ombre, washed down with a refreshing spritz. From the famous bakery treats to the best street food, our tour will take you on a culinary journey through the heart of Venice's food culture. Book now for a unique and memorable dining experience!"
Reviews
Cesarine - Discover Venice's Bacari & Street Food on a Tour
Nadine was great! She provided lots of information about Venice and cooking. We had a wonderful time with her
€110.00 per guest
€55.00 per child
Where
You'll receive the exact address after the booking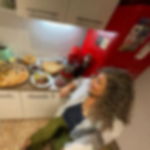 Nadine
Cesarina from 2022
Location: Venice    Languages: Italian, English, German, French
"My cuisine is the cuisine of the serenissima, founded on exchanges between peoples. I like to deepen the history of this cuisine to always discover variations and at the same time remain close to the culinary tradition of the serenissima. A tradition that is also based on influence of Venetian merchants, characterized by goods from all over the world: here comes the exotic spices from Asia but also the strong flavor of cod from the cold waters of the Baltic. Approaching this gastronomic experience can be an opportunity to discover fascinating traditions and surprising ".
Experiences you may like
FAQ
Families and solo travellers welcome