Easter in Rome: grandma's traditions
5.0
Dining experience: take a seat and enjoy an authentic Italian meal with a local Cesarina
Your menu
Menu straight from my grandmother's kitchen!
Four courses that take you back in time: Two appetizers, coratella with artichokes and baked fennel, as a first course fettuccine with sausage and artichokes, second course of abbacchio alla cacciatora, and to end on a sweet note maritozzi with cream. If this is not Rome! I am waiting for you outside the center of Rome to enjoy in company and in peace, dishes that you have never heard of but that are part of the tradition of my city and my family.
Reviews
Cesarine - Easter in Rome: grandma's traditions
We had two amazing days with Cristiana and her family. We feel like a family now! They have welcomed us with a big hug and from the first moment we felt wonderful with them. We wonted to give the girls (15, 18) an Italian experience. They love pizza and pasta and always make it at home. So, to Learn the Italian way of doing that was the perfect gift for them. my daughter has celiac, and we also have some food allergies and Cristiana was the perfect one for the job. She had customized everything to our needs and made our visit in Rome a perfect one! For the first day we did the pasta class. First, we make the gluten free pasta and learn some knew trick to make the perfect pasta. And the perfect ravioli with a ricotta, Spinach feeling. And then we made the same with a regular flower. She even manages to get my husband to do kitchen work, and we hope that he will become our pasta men from now on. After that we had a very nice lance with her husband Luka and her mom and daughter Gaya. The pasta with the broccoli was the best one I have ever eaten!! Cristiana made so many good and delicious Dishes and pamper us so mach. Her supply is so so good that you must visit her even just to eat that!! For the second day we had a pizza festival. We started with the gluten free and then for the regular one. We learn the Cristiana Italian stale to make a pizza. With knew and exiting toping. We also learned how to make a real Italian tiramisu (wow!!) And then we had a wonderful dinner. With her supper nice husband Luka and her son Daniele. And she was pampering us with a wonderful cake that she make specially for us and tiramisu for dessert. I highly recommend everyone to have this experience with Cristiana it was the Highlight of the vacation, and we had the best time and gain an Italian for ever friend (: Thank you for every thing! Love Yael, Itzik, Shani and Agam

Amazing experience with a welcoming family, cozy house and delicious food. The atmosphere was fun and they tought me a lot about Italian kitchen and culture. Highly recommend

Mohammed Algharbi

 - 

January 2023

This experience was the highlight of my 2 week trip to Italy! Cristiana and her husband welcomed us like family. The experience of shopping for the ingredients in real local markets and then going back to her home to prepare a meal and share it together was perfect. Cristiana was fun and helpful as she guides my husband and I through every step. By the time we sat and shared the meal we felt like we were with old friends. The meal itself was simple and fresh and aoooo delicious. We'have been home a month now and have been able to recreate the meal a couple of times. Do yourself a favor, spend an evening cooking with Cristiana - it's an unbelievable experience you will never forget.

My experience making pasta and tiramisu with Cristiana was wonderful. She is a very talented person who makes sure you are having the best time learning to make pasta and tiramisu. I really enjoyed the experience and had the best time.

I wanted an authentic cooking experience while in Rome which included a market tour & cooking class. I spent quite some time researching online. I came across Cesarine and was impressed with their class offerings and reviews. I initially booked my market tour and class experience for Monday 15/8/2022 and was told by Cesarine that there were no markets in Rome that day due to the Public Holiday. They offered for me to do a class and learn an additional recipe to compensate for not being able to do a market tour. I asked if I could reschedule my booking to the Tuesday. Cesarine staff were accommodating of this and organised the reschedule. Cooking with Cristiana was my favourite thing I did in Rome. From the moment I walked through her front gate, Cristiana and her husband Luca welcomed me into their house and their hospitality was amazing. We drove to the shops with Cristiana pointing out places of interest along the way. At the shops, she explained all the food to me and included me in the conversations with the shop staff. She allowed me to choose food that I hadn't seen before or that I wanted to cook with. We arrived back at their house and started cooking. Cristiana was a wonderful teacher. She explained the steps and the process very well. She would demonstrate then allow me to get hands on and cook myself. I am gluten intolerant and Cristiana was very accommodating of this. I also asked if we could make gnocchi as I wanted to learn the correct technique. We made gluten free gnocchi with Amatriciana sauce, eggplant parmigiana, tiramisu & bruschetta. We also had an amazing spread of appetizers including sun dried tomatoes, olives, pecorino cheese and focaccia. I highly recommend the Cesarine experience with Cristiana; it completely exceeded my expectations.

Eliza Taylor

 - 

August 2022
€95.00 per guest
€47.50 per child
Where
You'll receive the exact address after the booking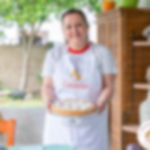 Cristiana
Cesarina from 2020
Location: Rome    Languages: Italian, English, French
Cristiana lives in Rome, an immense city with an infinite history, where every corner has its own anecdote. Here we meet our Cesarina who tells us about her passion for cooking, born thanks to her grandmother, who has been Roman for seven generations. At her table the now forgotten recipes of Roman cuisine, using ingredients purchased from farms, to always be sure of the quality of the products. And an always impeccable mise en place, to be combined with the type of menu proposed.
Experiences you may like
FAQ
Families and solo travellers welcome