Flavors and colors of the Adriatic
5.0
Typical 4-course menù with starter, pasta, main with side dish, dessert and wine included. Italian Aperitivo and cooking demonstration.
Your menu
Typical menu of the days of vacation in the Adriatic coast of the Marche, to start...
the famous cozze gratinate, where the authentic flavor of the sea is enclosed in these mussels and in the flavored bread, made crispy by the gratin.
The tagliolino (strictly handmade) with fish sauce, which in our area is called allo scoglio, is rich in clams, mussels, cuttlefish and mantis shrimp.
The gallinella di mare that in our area is called mazzola is grilled and then laid on a fennel and potato puree, enhanced by crispy bacon and aromatic herbs.
My shortbread tart has crumbled toasted almonds in the dough and homemade bitter orange marmalade. A combination that brings out contrasting flavors of bitter sweetness and softness and crunch.
Matching wines are:
in entry Bianchello del Metauro fresh and lively with delicate hints of nectarine and Verdicchio dei Castelli di Jesi more structured, fresh, savory with an aftertaste of bitter almonds both are a perfect match for fish dishes.
Reviews
Cesarine - Flavors and colors of the Adriatic
esperienza piacevolissima con persone squisite, mangiato e bevuto benissimo
€85.00 per guest
€42.50 per child
Where
You'll receive the exact address after the booking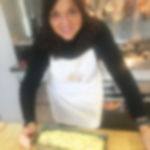 Simonetta
Cesarina from 2018
Location: Pesaro    Languages: English, Spanish, Italian
Our Cesarina Simonetta, certified taster and sommelier, welcomes us to a city of eternal charm, Pesaro, from which you can enjoy a splendid view of the sea. "My passion for cooking has accompanied me since I was a child, when, to play, I used to make piadina with my grandmother; still today, as then, cooking has remained my favorite pastime and when I'm in the kitchen I'm always charged with positive energy."
Experiences you may like
FAQ
Families and solo travellers welcome