Florentine lunch or dinner
5.0
Dining experience: take a seat and enjoy an authentic Italian meal with a local Cesarina
Your menu
I will cook typical Florentine dishes that my grandmother taught me and tell you their story by immersing you in our tradition
We will start with appetizer: Coccoli, the Duke's surprise ,pinzimonio, zucchini carpaccio; then I will propose as first course the classic ribollita or pappa al pomodoro and for second course the legendary Peposo alla "Brunelleschi or alla Fornacina" accompanied by a seasonal side dish.
Of course, to end on a sweet note, cantuccini with vin santo and excellent wine will certainly not be missing.
Reviews
Cesarine - Florentine lunch or dinner
We had a wonderful time cooking with Donatella! She welcomed us into her home and helped us learn the art of making pasta. Our boys enjoyed making their own colors and special varieties (especially the butterflies!). Thank you for a wonderful experience!

This class was a highlight of our entire Italy trip. Donnatella was wonderful and welcoming. We made two types of pasta and got to do everything hands on for ourselves to really learn. She let us ask any questions about anything during the whole process, did not rush us and made us laugh and feel comfortable. The pasta turned out delicious of course! And we ate the pasta we made for dinner with her family in her home and it was a wonderful true Italian experience away from crowded tourists. I would 100% learn from and cook with Donnatella again and strongly recommend her and the experience.

Matthew and Vivian

 - 

June 2023

Donatella was amazing. It was such a great experience and must do while in the city. She is very knowledgeable and explains everything which is a must if you are trying to make the recipes when you get home. Would totally do again! 10/10 recommend!

Amazing experience with Donatella! Very welcoming and knowledgeable

What a fun afternoon! We got to experience the market then go back and learn how to make homemade ravioli. It was truly the tastiest meal we have had so far in Italy,

Joyce and Bob perry

 - 

May 2023
€95.00 per guest
€47.50 per child
Where
You'll receive the exact address after the booking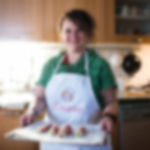 Donatella
Cesarina from 2018
Location: Florence    Languages: Italian and English
Florence, to quote Stendhal, has a "subtle beauty". The city itself is an open-air museum, rich in architectural masterpieces and works of art that are unique in the world. Here in the heart of this historical city in a street of ancient buildings located within where once stood the ancient medieval walls, and where you can experience the flavor of ancient Florentine history, we meet Donatella, our Florentine Cesarina DOC. Donatella studied art and architecture and she likes to experiment with different artistic techniques, from papier-mâché to ceramics, as well as applying her hand to making pasta dough in the kitchen. This last passion she shares with her husband and children, with whom she loves making homemade pasta, a perfect way to teach culinary art while having fun. At Donatella's, there is always a festive feeling and the typical flavors of Tuscan cuisine. Her dishes, from pezzole to carabaccia di Caterina de' Medici, are recipes which have made French cuisine famous the world over but that actually originated in Italy, specifically in Florence and the Medici court. Along with the fork, Caterina de' Medici brought recipes with her to Paris that would eventually become the macarons, omelette, crepes, the "francesina", soupe d'oignons and the bigné. At Donatella's table, we can relive the history of the dishes that traveled from Florence to Paris, as well as enjoy the pleasure of tasting them.
Experiences you may like
FAQ
Families and solo travellers welcome