Fresh pasta class in a lemon house on the hills of Florence
5.0
Cooking class: learn how to cook Italian recipes and taste the dishes prepared during the class
Your menu
Handmade pasta with seasonal sauce
Zucchini Flowers, polenta and sage
Tiramisù with coffee and cocoa
We await you in the lemon house where the culinary experience of Florentine cuisine will remain in your heart. The lemon house of Villa Savonarola in the Antico Borgo di Pian dei Giullari, easily reached in a few minutes' drive from the historic center of Florence or by a long, healthy and fascinating scenic walk. If the season permits, lunch or dinner is served on the patio, from where you can admire beautiful sunsets. Our passion is genuine, km 0 products from our garden. The workshops we work with for sourcing meats and flours are historic stores, rich in tradition, culture and passion.
During the fresh pasta cooking class we will tell you stories and anecdotes of tradition and lose ourselves in the magic of our garden.
Reviews
Cesarine - Fresh pasta class in a lemon house on the hills of Florence
Amazing evening - unfortgettable location and awesome food and company - dont look anyplace else

Cristina and Paulo welcomed us into their home in the best way possible. I went with my parents and my sisters, and the experience could not have been better. They work as a team to ensure a smooth and incredibly personal experience. They both worked with each of us to ensure that we understood how to make the food and have fun! While we started on the tiramisu, we were served prosecco, along with fried squash blossoms, sage leaves, and polenta. They source as many ingredients locally as they can for the most authentic experience possible. We moved onto the pasta - we were (very patiently) taught how to make the dough, and while it rested we were given a small tour of the property and an explanation of the surrounding areas. The beautiful gardens filled with flowers, fruits, and olive trees perfectly framed the Tuscan sunset. We made an appetizer of spinach and ricotta before finishing up the pasta, served the most delicious red wine. They set a stunning table complete with homemade stone placemats and finished cooking. They then sat down for a meal with us, sharing an incredible meal and getting to know us personally. If I make it back to Florence, I will be coming back here every time. There is not a single thing I would change about this experience, and I commend them for being so inviting and welcoming. One of the best and most personalized experiences I've had while traveling.
€129.00 per guest
€64.50 per child
Where
You'll receive the exact address after the booking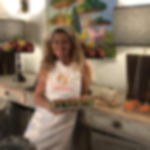 Cristina
Cesarina from 2019
Location: Florence    Languages: Italian and English
Cristina welcomes us to her home in a lemon house, surrounded by greenery, in the old village of Pian dei Giullari, near the ancient home of Galileo Galilei. Our Cesarina, with passion and dedication, takes care of the vegetable garden, respecting the biological cycles of nature and using to cook her dishes only seasonal fruit and vegetables. Since she was young she has always valued the mise en place, following her mother's advice: "you can eat with your eyes too!" Over time she has learned to know and respect the ingredients and raw materials, the real protagonists of her dishes, which she cooks with passion and imagination.
Experiences you may like
FAQ
Families and solo travellers welcome