Gluten-free cooking in Venice: the most delicious recipes
5.0
Cooking class: learn how to cook Italian recipes and taste the dishes prepared during the class
Your menu
Potato and una meatballs with vegan mayonnaise
Chestnut gnocchiwith pears, fondue and walnuts
Small glasses of mascarpone cream an berries
Join me for a gluten-free cooking adventure in the heart of Venice! Discover the delectable flavors of Italian cuisine with three mouth-watering dishes that are not only delicious but also gluten-free.
We will start by whipping up savory potato and tuna meatballs served with a vegan mayonnaise. Next, we'll create a stunning dish of chestnut gnocchi with pears, fondue, and nuts. And for dessert, we'll indulge in creamy mascarpone berry cups.
During this cooking class, you'll learn the tricks and techniques to create these gluten-free dishes while enjoying the sights and sounds of Venice. You'll have the opportunity to taste your creations with a complementary drink of your choice. Don't miss this unique and delicious experience in the floating city!
Reviews
Cesarine - Gluten-free cooking in Venice: the most delicious recipes
My friend and I had absolutely the best time with Daniela in her cooking class and I can't recommend this enough!! The food was delicious, the class was so fun, and the space was beautiful and welcoming. I would highly recommend this to anyone, gluten-free or not! My friend and I are both Celiac and this class was very safe and great to eat- our favourite thing in Venice so far!

Amazing gluten free cooking class! I would recommend Daniela to anyone even if they aren't doing a gluten free class! Such delicious recipes and a lovely space to take the class in. My favorite part of visiting Venice!

Daniela was absolutely incredible. She was such a wonderful host and so incredibly knowledgeable and fun. She made our cooking experience so much fun and elevated our experience in Venice. We made the most delicious meal that we ate while were here with the most simple and pure ingredients. Daniela and her assistant Virginia taught us so much and made forever memories for me and my family. I highly encourage any one who wants the most amazing, authentic Venetian experience, to book with Daniela. Can't thank her enough for a beautiful, fun, and delicious day!!!

Kerri Egozi

 - 

August 2023

My family and I spent a full week on vacation in Italy and were all in complete agreement that this cooking experience with Daniela was one of the best parts of our trip! We appreciate good food and had booked a few pretty nice restaurants, but after sampling many an establishment, the food we prepared with Daniela was the best that we ate. Her knowledge and appreciation of food quality, the simplicity of good ingredients, health, and flavor came through wonderfully! More importantly, we had an absolute blast cooking with her. My two teenage daughters, my mom, and my husband (with his over-the-top personality) all had an amazing time learning and laughing and creating during this class. This was a special week for my family and we were so fortunate to have been connected with Daniela and her personable assistant Chiara. Thanks so much for everything!!

Weintraub family

 - 

August 2023

Wonderful meal and demonstration. My children really enjoyed the experience!
€129.00 
per guest
(€64.50 

per child)
€129.00 per guest
€64.50 per child
Where
You'll receive the exact address after the booking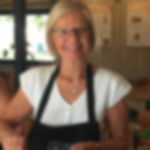 Daniela
Cesarina from 2022
Location: Venice    Languages: Italian and English
"My name is Daniela, I'm 61 and I've lived in Venice for seven years. I love cooking but above all I care about the well-being of those who sit at my table. I have a diploma in holistic consultant in natural nutrition and I attended a cooking school natural, but above all I am a cook for passion. I prepare with the same care menus based on fish, vegetarian, vegan, gluten or dairy-free, delicious sweets without white sugar, butter, refined flours. "Healthy" dishes arrive on my table but flavors that usually thrill my guests. Mine are often "revisited" traditional dishes. I am therefore very attentive and sensitive to any food intolerances that many people suffer from today. When I travel, I myself often have difficulty finding restaurants and dishes that meet my needs, so I'd like to be at your service and offer healthy and delicious dishes to anyone who needs them for wellness/health issues".
Experiences you may like
FAQ
Families and solo travellers welcome