Gnocchi and Tiramisù cooking class in Florence
5.0
Your menu
Come and discover the secrets of traditional Tuscan cuisine in our cooking class, where we will focus on the delicious dishes of potatos gnocchi, the gnudi, and tiramisu.
The gnudi, whose name comes from the Tuscan dialect, are a filling made of spinach and ricotta cheese that is typically used in ravioli, but we will prepare them without the pasta coating. Under the guidance of our expert chef, you will learn how to prepare these dishes from scratch and top them with a flavorful aglione or herb sauce and Parmesan cheese. And for the perfect finish to the meal, we will teach you how to make a classic and delicious tiramisù. Join us for an unforgettable culinary experience and indulge in the authentic flavors of Tuscany!
Reviews
Cesarine - Gnocchi and Tiramisù cooking class in Florence
Donatella was amazing!! Her apartment was warm and inviting from the start. She made us feel like old friends. We attended the class with our two college age kids, plus one of their friends. It was the perfect activity and the perfect lunch! We learned a lot food and real life in Florence and came away with a couple of new ideas for pasta recipes. Highly recommend Donatella!!!

My family enjoyed our evening with Donatella and her family. Dinner was delicious and we enjoyed good conversation. Very friendly.

Donatella and her family were wonderful hosts. Her food was superb, chosen with care and beautifully cooked. It was a thoroughly enjoyable evening.

A fabulous host! We aren't the best cooks and Donatella guided us through the two pastas and tiramisu- truly a wonderful person. Then we sat down and had dinner with her, her husband and son- a great way to learn more about the culture!

Em & Fotis

 - 

January 2023

Donatella was a really good teacher and excellent host. She taught us patiently, explained the differences between different types of pasta, told us stories about florentine food and traditions and make cooking pasta very approachable and easy. The lunch was very good! We enjoyed sitting at the table with Donatella and her family, who taught us about italian culture and heritage. We really enjoyed our time there and would really recommend this experience!
€129.00 per guest
€49.50 per child
Where
You'll receive the exact address after the booking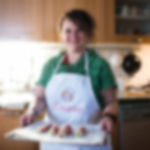 Donatella
Cesarina from 2018
Location: Florence    Languages: Italian and English
Florence, to quote Stendhal, has a "subtle beauty". The city itself is an open-air museum, rich in architectural masterpieces and works of art that are unique in the world. Here in the heart of this historical city in a street of ancient buildings located within where once stood the ancient medieval walls, and where you can experience the flavor of ancient Florentine history, we meet Donatella, our Florentine Cesarina DOC. Donatella studied art and architecture and she likes to experiment with different artistic techniques, from papier-mâché to ceramics, as well as applying her hand to making pasta dough in the kitchen. This last passion she shares with her husband and children, with whom she loves making homemade pasta, a perfect way to teach culinary art while having fun. At Donatella's, there is always a festive feeling and the typical flavors of Tuscan cuisine. Her dishes, from pezzole to carabaccia di Caterina de' Medici, are recipes which have made French cuisine famous the world over but that actually originated in Italy, specifically in Florence and the Medici court. Along with the fork, Caterina de' Medici brought recipes with her to Paris that would eventually become the macarons, omelette, crepes, the "francesina", soupe d'oignons and the bigné. At Donatella's table, we can relive the history of the dishes that traveled from Florence to Paris, as well as enjoy the pleasure of tasting them.
Experiences you may like
FAQ
Families and solo travellers welcome