Dining experience: take a seat and enjoy an authentic Italian meal with a local Cesarina
Your menu
If you are a happy hour lover, on my terrace, you will not only get to nibble on different tapas with Ligurian flavors and sip a glass of wine but you will do so while watching the sun set over the sea, giving you a perfect picture.
Reviews
There are no reviews yet.
€95.00 per guest
€47.50 per child
Where
You'll receive the exact address after the booking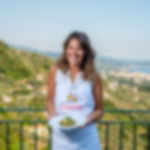 Beatrice
Cesarina from 2021
Location: Chiavari    Languages: Italian and English
"I was born and raised in Liguria, but my family is a national and international melting pot. I became passionate about cooking as a child, as a self-taught I learned to do everything, or almost everything. When I was older I approached traditional regional cuisine after having learned the techniques of contemporary cooking working in some kitchens. For me hospitality is very important, in my house the table is always set for friends, whom I like to take care of through the kitchen and making them feel at home. With my partner we produce natural wines, we take care of the vineyard without using chemicals, trying to give expression to our territory."
Experiences you may like
FAQ
Families and solo travellers welcome