Hands-on pasta and Tiramisù cooking class in Venice
5.0
Small Group hands-on cooking class with 2 pasta recipes and tiramisù followed by an Italian aperitivo and lunch or dinner with the dishes prepared during the class.
Your menu
Herbs pasta leaves with light homemade pesto
Pyramids filled with eggplant and sunny cherry tomatoes
Tiramisu ice cream garnished
Welcome to my sunny home in Venice, where we'll embark on a culinary journey filled with the vibrant flavors and scents of Italy. I invite you to join me in exploring the art of pasta-making, where you'll learn to create colorful and unique pasta shapes and fillings that are sure to impress.
In addition to pasta, we'll also delve into the world of sweet treats and learn to make a delectable tiramisù ice cream, garnished to perfection like a true restaurant dessert. As we cook and taste, I'll share with you my secrets for combining flavors, colors, and textures, and pairing dishes with the perfect wine.
Reviews
Cesarine - Hands-on pasta and Tiramisù cooking class in Venice
The cooking class with Matilde was perfect! Her passion for cooking, food, and wellness was amazing. She was kind enough to let us into her beautiful home and share her knowledge with us. We thoroughly enjoyed learning about making pasta and tiramisu. Getting to know her and share a dinner together was the highlight of our trip to Venice. We highly recommend this class with Matilde!

Kyle & Heather

 - 

February 2023

Our dinner with Matilde was the highlight of our 2-week trip in Italy. Not only was the meal absolutely delicious, it was a delight to get to know Matilde, a local Venetian, and learn more about what it's like to live in Venice. At first I was hesitant about having to go to Lido, but that actually turned out to enhance the experience by getting us out of the crowded and hectic city and into the quiet and relaxing area of Lido. I definitely recommend Cesarine.

Sherri and Carlos

 - 

November 2022
€129.00 per guest
€49.50 per child
Where
You'll receive the exact address after the booking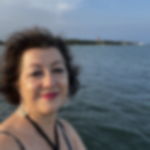 Matilde
Cesarina from 2022
Location: Venice    Languages: Italian and English
"I was educated in the flavors linked to quality and genuineness, over time I have deepened the study of many ingredients and cooking techniques of kitchens from all over the world, specializing in Venetian, Sicilian and Middle Eastern cuisine. I am a sommelier, expert in spices, herbs aromatic herbs, cocoa, tea and more, and I have been collaborating with Slow Food as a teacher for over 20 years ".
Experiences you may like
FAQ
Families and solo travellers welcome