Homemade preserves and jams
5.0
Your menu
During this cooking class you will learn the techniques and preparation of some typical recipes of the Italian gastronomic culture in the form of preserves, to extend the life of the products and taste, even out of season, intense and special flavors, aromas.
Depending on the seasonality of the products, the recipes change: from the typical ''Tonno del Chianti'', a preserve made with white meat in oil with Tuscan herbs and spices, to be eaten with traditional beans al fiasco or seasonal vegetables; to the ''Certaldo'' onion jam, with a sweet, easily lovable taste, then mixed vegetables in oil, cherry tomatoes confit, liqueurs ,limoncello...all traditional products of the territory at Km 0, organic and first quality.
Reviews
Cesarine - Homemade preserves and jams
We had a truly enjoyable evening with Patrizia. We made the most amazing tiramisu and enjoyed helping to make pasta from a true expert. Patrizia, along with Antoinette (interpreter), guided us through a lovely evening of making ravioli, tortellini, pici and enjoyed some Tuscan wine. We would highly recommend sharing a table with these wonderful people.. They have so much guidance to offer in making the perfect pasta and tiramisu. We can't wait to get home to try it.

Karen and Greg

 - 

March 2023

We had the most wonderful evening with Patrizia! She was the most personable and wonderful host we could've asked for. She was so knowledgeable about her craft and truly cared about our experience and if we were learning and enjoying ourselves. We made two different types of pastas (sooo delicious) and tiramisu! She also served us wine and aperitif! A very authentic experience and was definitely one of the highlights of our trip! I would love to do another class with her if I came back!

Hayley, Erika, and Ariel

 - 

July 2022

We had the most amazing night with Patrizia!!! She welcomed us into her home and shared her amazing culture and food with us. It exceeded our expectations and wouldn't recommend for everyone to enjoy a night here like we did.

Kaitlin & Mark

 - 

July 2022

We were so fortunate to have nonna Patrizia for our first ever cooking class. We were 2 adults with a 5 year old and a 1 year old but that was not a barrier at all. She welcomed us warmly into her home and made us feel comfortable right from the start. Her in-depth knowledge and skills of pasta and pastry-making shone through. There was passion and, above all, patience with the way she taught. The clever tricks and techniques we learned will stay with us forever. After everything, we sat down to enjoy the wonderful lunch of stuffed ravioli, and the exquisite torta della nonna that we had prepared. I recommend this to anyone looking for a true and authentic Italian home experience.

Romina Hemmerich

 - 

July 2022

*SENZA PAROLE* wie wir während des Kurses so schön sagten. Wir waren einfach nur begeistert von diesem einzigartigen Erlebnis bei Patrizia. Von der herzlichen Begrüssung bis zum gemeinsamen Essen einfach perfekt. Wir haben viel gelernt aber auch gelacht! Die Unterstützung von Eli war sehr bereichernd. Wir hatten eine wirklich tolle Zeit.

Jeannine & Joel

 - 

June 2022
€150.00 per guest
€75.00 per child
Where
You'll receive the exact address after the booking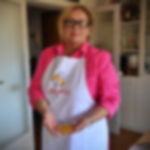 Patrizia
Cesarina from 2019
Location: Siena    Languages: Italian, English, Spanish
Siena is a city famous for its art, the delicious food, and because its Palio is the most important in Italy. Many are its faces, and the city is unique. A few steps from Piazza del Campo we meet Patrizia. The family of our Cesarina has been from Siena for generations and her passion for cooking was born in her family. In the kitchen, she loves to use creativity and imagination, but always paying attention to the tradition of flavors and tastes of her land. At her table, guests can enjoy dishes with a strong and unmistakable taste, made with genuine products: legumes, vegetables, meats, extra virgin olive oils, ingredients that give life to the most typical recipes of Siena, admiring the Campanone of the Torre del Mangia.
Experiences you may like
FAQ
Families and solo travellers welcome