Lake Garda's Flavors: Traditional Cooking Class
5.0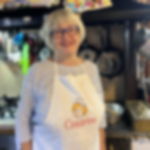 Spoken languages:  French, English, Italian
Cooking class followed by lunch or dinner with the recipes prepared during the class.
Your menu
Frittata with leeks
Tagliatelle
Tiramisu with strawberries
My passion is traditional cuisine, which I love to share to enhance the culture and richness of our land. During my cooking course, I will teach you how to prepare a leek frittata, tagliatelle, and a delicious strawberry tiramisu. We will only use fresh and seasonal ingredients to ensure the highest quality. I will take you on a journey through the flavors of our territory, discovering the culinary traditions that have made the history of our region. Cooking is a place of simplicity, pleasure to share knowledge and experiences. Experience with me the joy of discovering that goodness is in simplicity, I'm waiting for you!
Reviews
Cesarine - Lake Garda's Flavors: Traditional Cooking Class
We were a group of three and we had a marvellous time with Marina. We started with an amazing lunch and we went on to make two types of Tiramisu, and then two types of pasta with accompanying sauces. Marina was very patient and has inspired us all to go out and buy our own pasta making equipment. She shared her knowledge of local regional dishes with us. To top off our afternoon, we sat down and enjoyed our cooking efforts with Marina and her gracious husband. Grazie Mille Marina.

My family had such a wonderful time with Marina. She brought us into her home and made us feel like family. We learned so much from her about authentic pasta making and how to make Strawberry Tiramisu. I never even knew there were other flavors than coffee! When we arrived she had her family recipe deviled eggs, fresh mozzarella, bread and Prosecco waiting for us. We then learned to make ravioli and tagliatelle and the most delicious fillings and sauces. We can't wait to try our hand at making them at home. Thank you Marina for a most memorable evening. 😊

We were 2 families with children between age 3-12. We did the cooking lesson at marina's house. The experience was wonderfully. It was the highlight of our trip. Tye food was excellent, marina is a real professional and an incredible woman. The hospitality was amayzing we really recommend it!!

Anat zalmanovich

 - 

July 2022

This was undoubtedly one of the best experiences we have ever had! Marina was amazing, she welcomed us into her home and provided wine (made in Lake Garda) and appetisers, delicious salami from Desenzano. Then we got to the cooking, we made tiramisu, ravioli and tagliatelle, Marina was so knowledgeable and we learned a lot! She also gave us the recipes, and different options such as sauces we could make, so we are going to try to make it at home too! We finished off with coffee and biscuits - again delicious, and Marina told us all about the Lake, her recommendations for things to do/places to eat! Marina and her son were so generous and gave us such an amazing experience that will be a lasting memory for us! If you are visiting Lake Garda I could not recommend the cooking class with Marina enough!

Our family had a wonderful experience with Marina. She shared a number of tips as we were making the recipes. She was great with our 8-year old as he rolled out the pasta dough, and accommodated our preferences in real time. It was great to spend an evening in her warm and welcoming home.
€129.00 per guest
€64.50 per child
Where
You'll receive the exact address after the booking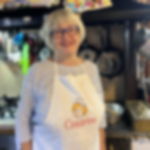 Marina
Cesarina from 2021
Location: Desenzano del Garda    Languages: French, English, Italian
"Italian cuisine is a symbol of quality of life and the search for authentic recipes is often the motivation for a journey and an experience that then extends its narration upon return. The millennial ritual of sharing food enhances the emotion of meeting and allows you to enhance the authentic culture and richness of a place. Through the narration and the preparation of local dishes, the kitchen is rediscovered as a place of one's origins, of the simplicity of doing, of the pleasure of sharing knowledge and experiences. Over the years I have had the opportunity to directly experience the great appeal that the preparation of a traditional recipe arouses in those who participate in its realization. Cooking for friends on trips or preparing sweets for anniversaries, the result is always the same: the joy of discovering that we are all able to find goodness in simplicity."
Experiences you may like
FAQ
Families and solo travellers welcome