Lake Garda's Flavors: Traditional Cooking Class
5.0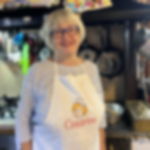 Spoken languages:  French, English, Italian
Cooking class: learn how to cook Italian recipes and taste the dishes prepared during the class
Your menu
Frittata with leeks
Tagliatelle
Tiramisu with strawberries
My passion is traditional cuisine, which I love to share to enhance the culture and richness of our land. During my cooking course, I will teach you how to prepare a leek frittata, tagliatelle, and a delicious strawberry tiramisu. We will only use fresh and seasonal ingredients to ensure the highest quality. I will take you on a journey through the flavors of our territory, discovering the culinary traditions that have made the history of our region. Cooking is a place of simplicity, pleasure to share knowledge and experiences. Experience with me the joy of discovering that goodness is in simplicity, I'm waiting for you!
Reviews
Cesarine - Lake Garda's Flavors: Traditional Cooking Class
A Delightful Journey into Italian Cuisine with Marina I recently had the pleasure of participating in an authentic Italian cooking experience with Cesarine in Desenzano, Italy, alongside my step-mom and friend. Led by the talented chef and teacher, Marina, we embarked on a culinary adventure that surpassed all expectations. Here's why our experience was simply unforgettable: From the moment we stepped into Marina's beautiful home kitchen, we were enveloped by a warm and welcoming ambiance. The space exuded an authentic charm, adorned with captivating art and cherished photographs, creating a truly homely atmosphere. Under Marina's expert guidance, we delved into the art of Italian cooking, learning to prepare traditional dishes that are the pride of the country. Our hands-on experience included crafting homemade pasta from scratch, indulging in the irresistible flavors of strawberry tiramisu, perfecting tomato sauce, and crafting delectable raviolis. Each recipe was accompanied by clear and comprehensive explanations, with Marina's teaching style blending intelligence, kindness, and a genuine passion for sharing her culinary heritage. What set Marina apart was her ability to go beyond the recipes. She wove captivating tales of the local area, agriculture, and historical facts, providing us with a richer understanding of the cultural significance behind the dishes we were creating. It was a true delight to discover that some of the recipes we prepared were cherished family secrets, adding an extra layer of authenticity and nostalgia to our culinary journey. The ingredients provided for the class were nothing short of exceptional. Freshness and high quality were at the forefront, elevating our creations to new heights. Marina's dedication to sourcing local and seasonal ingredients further enhanced the authenticity of the experience, allowing us to truly connect with the flavors of Italy. Amidst the fun and relaxed atmosphere of the class, we felt like more than mere participants—we felt like members of Marina's extended family. Her friendly and inviting nature, combined with her wealth of knowledge and insights, fostered an environment where we felt comfortable and supported. It was a transformative experience, where strangers became family, creating memories that will last a lifetime. The highlight of the cooking class was undoubtedly the opportunity to learn the art of handmade pasta. Marina's guidance empowered us with newfound skills and confidence, ensuring that we could recreate the magic in our own kitchens. As we savored the fruits of our labor, we marveled at the delectable flavors and textures that surpassed even the most authentic Italian cuisine we had encountered before. In addition to the culinary adventure, meeting Marina and her husband was a true privilege. Their warm hospitality and the wisdom they shared from their travels and life experiences added an extra layer of richness to our time together. It was an encounter that went above and beyond, leaving an indelible mark on our hearts. In conclusion, this authentic Italian cooking experience was an absolute delight. Marina's passion, expertise, and genuine warmth created an unforgettable journey into the heart of Italian cuisine. If you're seeking a culinary adventure that exceeds expectations, look no further than this remarkable cooking class. Marina is an exceptional human. You won't be disappointed!!

Marina was a wonderful host and we learnt so many practical and useful tips for cooking Italian cuisine. It was a really relaxing and fun experience that I would highly recommend! Thank you Marina

Olivia & Charles

 - 

May 2023

Where to even begin, I had a lovely afternoon learning to cook with marina. She was so patient and taught me all about home cooking and about traditional Italian cuisine ! We sat down around her table and enjoyed what we Cooked and tried the local wine. I would recommend this to anyone it's an amazing one of a kind experience and I will definitely be making these recipies at home.

Where to even begin! Marina was incredible! We had one of our favourite days of the holiday at her cooking class, enjoying food from across Italy and even trying other foods Marina shares with her family. Her kindness, generosity and food knowledge are incredible and we had such an amazing time. Eating with GiGi and meeting Toffee the dog made the experience feel like we stepped into a home from home. If anyone is debating on doing this experience just book it - you won't regret it! Thanks Marina!

Sophie & Harry

 - 

May 2023

It was a unforgettable experience with Marina! You will fall in love with her kitchen the moment she opens the door, an authentic and genuine kitchen. You will feel like you had an Italian aunt that you didn't know about❤️🇮🇹. The food is amazing, and she already sent us all the recipes and where we can get the ingredients. Thank you so much Maria!!!!!🙏🙏 will definitely be the first thing I will do when I visit Italy next time.

Raghad Alkhudhair

 - 

May 2023
€129.00 per guest
€64.50 per child
Where
You'll receive the exact address after the booking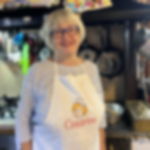 Marina
Cesarina from 2021
Location: Desenzano del Garda    Languages: French, English, Italian
"Italian cuisine is a symbol of quality of life and the search for authentic recipes is often the motivation for a journey and an experience that then extends its narration upon return. The millennial ritual of sharing food enhances the emotion of meeting and allows you to enhance the authentic culture and richness of a place. Through the narration and the preparation of local dishes, the kitchen is rediscovered as a place of one's origins, of the simplicity of doing, of the pleasure of sharing knowledge and experiences. Over the years I have had the opportunity to directly experience the great appeal that the preparation of a traditional recipe arouses in those who participate in its realization. Cooking for friends on trips or preparing sweets for anniversaries, the result is always the same: the joy of discovering that we are all able to find goodness in simplicity."
Experiences you may like
FAQ
Families and solo travellers welcome