Local market tour in Siena and pasta class
5.0
Follow your Cesarina in a local market tour, challenge yourself with a hands-on cooking class and enjoy an authentic Italian meal with the recipes prepared during the class
Your menu
Tastings of Tuscan appetizers
Pasta with white sauce
Zuppa Inglese dessert (traditional Italian pudding)
In this market tour set in Siena I will show you the best ingredients to get: we will use them to prepare some dishes together at my place.
First we will cook a starter that includes the best Tuscan appetizers mixed together. Then we will make pasta with white sauce and lastly a dessert, "zuppa inglese", a traditional italian dessert with custard. All these plates will be eaten together at the end of our experience, come and try it!
Reviews
Cesarine - Local market tour in Siena and pasta class
Our time with Patrizia was the highlight of our week in Siena. Full of knowledge, she led us through the local food market with the histories of cheeses, meats, and seasonal produce in her Italian, translated to English by her lovely friend and fellow Senese, Antoinette, a translator by trade. It gave us a sense of how and why the Sienese eat as they do. Learning to make pasta with our own hands in her delightful home, I'm confident that I will be able to reproduce our results because of her detailed explanations of the interplay of ingredients, temperature, moisture, and time. We experienced the feel of the dough, knowing when to add moisture, when it has been kneaded long enough, when it has rested long enough, and the elasticity needed to produce a proper pasta. We learned to roll and cut the pasta by hand, formed in multiple shapes, as well as getting the same results with the use of a pasta machine. While our dough rested, we learned secrets to making the smoothest custard for Zuppa Inglese, Traditional Italian Trifle and a simple, but delicious sauce for our pasta. Finishing with a full meal consisting of appetizers made from fresh ingredients bought at the market as well as her own special recipes, our hand-made pasta and sauce, chianti, and our trifle, left us more than satisfied - our tummies and our souls.

Terri and Tracy

 - 

April 2023

A wonderful experience. Patrizia was very welcoming and fun. The class was well organized and the food delicious.

What a wonderful experience we had cooking with Patrizia in her home. Like cooking with new friends. Patrizia and her translator Antonia could not have been more nice, warm funny and skilled. We laughed and learned. The lesson was terrific and our product for lunch (which we ate together) was delicious. It is a must, must to do when visiting Siena.

Hanan and Lauren NYC

 - 

May 2023

We had a great time with Patrizia and her cooking class! She was super helpful in teaching us the best methods and made us feel so comfortable in her home. Everything tasted amazing and was all natural, which was so refreshing. We ate so much and had an amazing time - would definitely recommend to others visiting Siena!

Kristina and Quinn

 - 

May 2023

What an experience! Patrizia is so welcoming and fun. We learned so much in her class in a quaint setting in her home. Elaina her interpreter was fun and kept the evening smooth with her perfect English. I really recommend this fantastic experience. We can't wait till we are home putting to work what we learned 😉

Marion and Earl

 - 

May 2023
€189.00 per guest
€94.50 per child
Where
You'll receive the exact address after the booking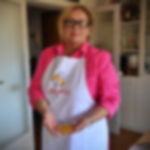 Patrizia
Cesarina from 2019
Location: Siena    Languages: Italian, English, Spanish
Siena is a city famous for its art, the delicious food, and because its Palio is the most important in Italy. Many are its faces, and the city is unique. A few steps from Piazza del Campo we meet Patrizia. The family of our Cesarina has been from Siena for generations and her passion for cooking was born in her family. In the kitchen, she loves to use creativity and imagination, but always paying attention to the tradition of flavors and tastes of her land. At her table, guests can enjoy dishes with a strong and unmistakable taste, made with genuine products: legumes, vegetables, meats, extra virgin olive oils, ingredients that give life to the most typical recipes of Siena, admiring the Campanone of the Torre del Mangia.
Experiences you may like
FAQ
Families and solo travellers welcome