Menu with the flavors and fragrances of Sorrento
5.0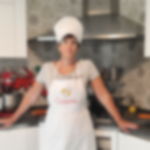 Spoken languages:  Italian, English, French, Spanish
Cooking class: learn how to cook Italian recipes and taste the dishes prepared during the class
Your menu
Tasty Caponatina
Gnocchi (homemade pasta) "alla Sorrentina" (with tomato, basil and mozzarella cheese)
Tiramisu with lemon
In my comfortable apartment, located in the heart of Piano di Sorrento, we'll spend carefree hours having fun preparing a tasty menu typical of the Sorrento Peninsula. Together, we'll prepare a fresh appetizer with cherry tomatoes, miniature mozzarella, olives, and basil on a wheat biscuit. Then, we'll dedicate ourselves to creating the renowned Sorrentine potato gnocchi. We'll conclude with a delectable version of tiramisu, reinvented with the unmistakable aroma of Sorrento lemons.
Reviews
Cesarine - Menu with the flavors and fragrances of Sorrento
Cooking lessons with Clara was a great experience! Boutique style lessons in her lovely home with her 2 beautiful twins helping to make the night special. It is quite different to the standard lessons where you are in a restaurant or facility and we loved it. Would suit a small group, the cooking was fun and the meals prepared were delicious. We love cooking Italian and learnt some real Italian style tips and ingredients to the normal. We also ended up learning a lot of italian language as well as they spoke English very well but also taught us Italian 🇮🇹Thank you Clara again for your hospitality. Can't wait to go home and cook gnochi and tiramisu for our family's 🤤🤤

Dwayne and Julie Kempster

 - 

August 2023
€129.00 
per guest
(€64.50 

per child)
€129.00 per guest
€64.50 per child
Where
You'll receive the exact address after the booking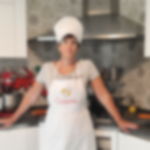 Clara
Cesarina from 2023
Location: Piano di Sorrento    Languages: Italian, English, French, Spanish
My name is Clara, born in Paris to Campanian parents. I lived in Sorrento until the age of 18, and then I traveled around the world for work. I immediately fell in love with trying international and multicultural cuisine, and while working on cruise ships as a hotel manager, I learned firsthand how to navigate large kitchens on 4-star floating hotels. It was there that my passion for pastry also emerged, leading me to deepen my studies at Compait and attend various courses for artisan bread-making. I greatly enjoy teaching what has always been a profound passion of mine. My specialties undoubtedly include desserts, artisan bread, basic pastry, and the traditional sweets of my region. Pastiera, sfogliatelle, and other delights. I also love making pizza and fresh pasta with great enthusiasm.
Experiences you may like
FAQ
Families and solo travellers welcome