Passatello and Bolognese Meatloaf
5.0
4-course Italian menu with cooking demo
Your menu
Mortadella does the honors of the house
Passatelli (homemade pasta) in broth
Meatloaf with Puree
Baked peaches with chocolate and amaretti biscuits
Passatelli and Polpettone are two dishes of Bolognese Tradition, and recipe calls for Passatelli to be cooked in the broth created in the cooking of Polpettone.
This culinary experience will be a succession of flavors that chase each other and come together.
It starts with an appetizer of Mortadella in different shapes and textures, an ingredient that we will also find inside the meatloaf. All accompanied by the growing Bolognese while sipping a Pignoletto dei Colli Bolognesi.
We arrive at Passatello that will be the star of the Cooking Demo, you will see its making and we will reveal its secrets.
It will be the turn of the Meatloaf that you will taste paired with soft mashed potatoes of the territory.
To finish off, baked peaches with macaroons and chocolate.
Reviews
Cesarine - Passatello and Bolognese Meatloaf
We had a great day learning about the traditions and cooking with Elena! The home is so welcoming and truly allowed us to relax and have a perfect afternoon. We couldn't recommend enough!

Jacqueline and Joseph

 - 

July 2023

Our host was very passionate about cooking and shared lots of information and cooking tips. He was a great host for myself and my two teenaged boys whom he engaged in the process. dinner after on the terrace was amazing.

We had a fantastic experience and it was more than we expected. Looking forward to try everything at home. 100% recommendation :) grazie

We had an outstanding experience with Saverio in Bologna. He carefully taught us how to make pasta and answered many other questions about Italian cooking and culture. He was a gracious host and was very attentive to details. The setting was a beautiful house in the city with a variety of artworks and a rooftop terrace for dining. We will definitely do this again in the future.

We had a wonderful time cooking with Saverio! He was gracious, informative, funny and a great chef. He welcomed us into his and Elena's beautiful home as if we were old friends. We made three dishes (tortelloni, passatelli and gnocchi). We enjoyed fabulous antipasti, bread and tiramisu (the best ever!) that Saverio prepared for us. Dinner was served on their rooftop terrace with an incredible view of the city at sunset. We highly recommend this experience to anyone who wants to learn more about Bologna, its history and cuisine from a local expert! Grazie di tutto, Saverio!! We made three dishes (tortelloni, passatelli and gnocchi).
€85.00 
per guest
(€42.50 

per child)
€85.00 per guest
€42.50 per child
Where
You'll receive the exact address after the booking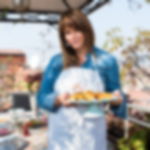 Elena
Cesarina from 2018
Location: Bologna    Languages: Italian and English
One perspectives we can have of Bologna is from above, enjoying the view from the city's towers and monuments, from its hills and terraces of various local places, and from the enchanting terrace in the home of our Cesarina, Elena. From here, we can admire the classic Bolognese rooftops that are tinged to an even more intense red come sunset. Here, we can experience the authentic flavor of Bologna, observing it from above and savoring its delectable cuisine. As we know, Bologna is very famous for its gastronomy. This important notoriety dates back to the Middle Ages, when the city began to welcome students and professors from all over the world to the University. This is how Bolognese cuisine became rich, abundant and very varied, not unlike Elena's cooking. Elena's elegant table offers up the classic aromas and flavors of the Bolognese tradition, from passatelli in brodo (fresh egg pasta in a meat broth) to 'polpettone' (meatloaf), from 'crescenta con mortadella' (flat bread with cured ham) to 'torta di risoì (sweet rice and almond cake), all following her mother's recipes.
Experiences you may like
FAQ
Families and solo travellers welcome