PastaPassion in Como - 3 recipes course
5.0
Cooking class followed by lunch or dinner with the recipes prepared during the class.
Your menu
Parmesan mini-basket with zucchini
Swiss chards ravioli with ricotta and Lake Como local cheese
Family style Tiramisù
An open space kitchen, a convivial space in my eclectic home filled with books, art pieces and design. We will cook together, and because I like to chat, I will tell you some good local stories, from Alessandro Volta (yes the one who invented the battery) to my father (exponent of Como Abstractism and textile designer), to my anti-waste commitment with the Food Bank. We will prepare simple and healthy dishes, with local ingredients. I buy everything I can at the market, from local producers to rediscover the flavors of this beautiful lake and its surroundings. That's why my dishes are based on vegetables and cheeses, basic ingredients of the area's cuisine. I try not to waste food and will give you some suggestions for reusing leftover food.
Reviews
Cesarine - PastaPassion in Como - 3 recipes course
Abbiamo scelto il corso di pasta fresca ed è stata una bellissima esperienza: dalla casa meravigliosa in cui siamo stati accolti alla piacevole conversazione ci siamo sentiti come tra amici. Monica è davvero una host di classe e allo stesso tempo alla mano, disponibile a insegnare e a condividere i suoi preziosi trucchi in cucina.

Vittoria e Dario

 - 

January 2023

This was an amazing experience. We made parmesan baskets with zucchini and herbs, cheese and Swiss chard ravioli, and tiramisu. Monica was so gracious with our family of 6 - both teaching us proper cooking techniques and also teaching us about Como. Highly recommend this experience!

Monica was an absolutely wonderful hostess. She made us feel welcome in her beautiful home. We learned how to make homemade tiramisu, parmesan baskets with fresh zucchini pesto, and ravioli filled with greens and ricotta. It was all delicious and we learned a lot about the local cuisine and fresh, seasonal ingredients. Monica was a great teacher and did a fantastic job of explaining how to do each step, showed us how to do the tricky parts and was so encouraging the entire time. She not only shared her time and cooking skills with us, but also told us about her life, her city of Como, and recommended places to visit nearby we would not have seen otherwise. At the end of our experience Monica even packed up the leftovers to send home with us for a meal the next day which was such a lovely extra step that she did not have to take. We had SO much fun learning from, cooking, and spending time with Monica. This was a 10/10 experience!

We had such a great time! Monica was so friendly and fun. We made 2 types of pasta and tiramisu 😊. We were in Como for our mini-moon and this was such a memorable experience!

Megan & Sulabh

 - 

November 2021
€129.00 per guest
€49.50 per child
Where
You'll receive the exact address after the booking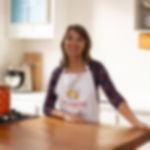 Monica
Cesarina from 2020
Location: Como    Languages: English, Spanish, Italian
"I love to write, and to read, in fact, books fill my house. I am mindful of the quality of food; I like to cook what I eat; and share the pleasure of the table with other people, friends, and guests. I am involved in the recovery of food surpluses for social solidarity purposes with the Food Bank of Lombardy Onlus in Como, where I live. I try to hand down recipes that are simple, and easy to learn by everyone, and that are connected as much as possible to the tradition of the Larian territory."
Experiences you may like
FAQ
Families and solo travellers welcome