Springtime in Venice:Pasta Masterclass with Pesto & Tiramisu
5.0
Challenge yourself with a pasta-lover cooking class and enjoy an authentic Italian meal with the recipes prepared during the class
Your menu
Ravioli with asparagus and parmesan eggnog
Tagliatelle with home made pesto
Roses of pasta filled with cheese and spring vegetables
Spring is around the corner with its scents and colors. Shall we bring it to the table?
We'll prepare together the most delicious and beautiful filled pastas, using seasonal ingredients and little tricks to amaze your guests, your taste buds, and your eyes! We'll make a tasty and simple pesto that will become a must-have on your menu! And we'll conclude with a sumptuous tiramisu! This menu will give you the opportunity to offer your guests vegetarian, tasty, and winning dishes! If you like to bring seasonality into your recipes and love the colors of spring, this is the menu for you. I'm looking forward to seeing you!
Reviews
Cesarine - Springtime in Venice:Pasta Masterclass with Pesto & Tiramisu
We had an amazing experience with Matilde! We were lucky enough to visit with her in her beautiful apartment in Lido and everything was outstanding. We were taught which ingredients make the best pasta, sauces and Tiramisu. Matilde took the time to explain and then demonstrate professional techniques to make beautiful and amazingly delicious food. We made 2 extraordinary fresh pasta dishes with heathy and delicious sauces. Along the way, we drank wonderful wine, ate fresh bruschetta and then were treated to the "Best in the World" Tiramisu! We got to see the secrets to what makes this traditional Italian dessert worthy of its reputation.

5 stars does not do justice for Matilde. We had a group of 5 couples, and the experience was fantastic. We felt like Matilde invited us into her home. On top of that, the knowledge that she imparted to us was amazing. This included cuisine, culture, and personal and Venetian history. It was fantastic watching how she prepared the food and allowed us to "help" as well. Now to the best part - the food. It was phenomenal and so much of it. All 10 of us highly recommend any experience involving Matilde!

Dependable Friends

 - 

September 2023

If I could give Matilde 10 stars, I would! Matilde is amazingly funny, talented and educated. This experience was the one we looked forward to and it was even better than we expected. Not only did we have fun, but we learned so much. And the food!! The food was amazing. So fresh and clearly prepared with love and passion. Please, please, please…book with Matilde in her beautiful home with her beautiful family. Matilde's soul is as gorgeous as her food. I promise!

Courtney Y

 - 

September 2023

Matilde was excellent. She was very professional but also so friendly. I can't say enough of her hospitality. Perfecto!

George Saraceno

 - 

August 2023

Matilde was such a fabulous host. We felt like family. She makes cooking exciting and easy. I highly recommend you choose Matilde for your cooking experience

Becky Miron

 - 

August 2023
€145.00 
per guest
(€72.50 

per child)
€145.00 per guest
€72.50 per child
Where
You'll receive the exact address after the booking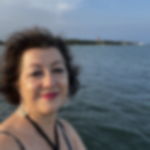 Matilde
Cesarina from 2022
Location: Venice    Languages: Italian and English
"I was educated in the flavors linked to quality and genuineness, over time I have deepened the study of many ingredients and cooking techniques of kitchens from all over the world, specializing in Venetian, Sicilian and Middle Eastern cuisine. I am a sommelier, expert in spices, herbs aromatic herbs, cocoa, tea and more, and I have been collaborating with Slow Food as a teacher for over 20 years ".
Experiences you may like
FAQ
Families and solo travellers welcome