Super Street Food tour in ChinaTown (with final appetizer)
5.0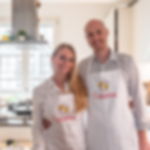 Spoken languages:  Italian, English, Spanish, French
Special Experience
Your menu
Like many metropolises in the world, Milan also has its Chinatown. It is the face and soul of the neighborhood that gravitates around Via Paolo Sarpi and attracts Milanese and foreign tourists alike for its vibrancy and its (always open) authentic street food establishments.
The guided visit to the Sarpi District and Milan's Chinatown is a cross-cultural and unique experience that, if on the one hand transports us to the old Milan of railing houses and markets, on the other hand moves us to the Far East, in a curious combination all to be discovered.
We will delve into Chinese cuisine, which we will try together, tasting some of the street food best of Paolo Sarpi, from baozi to jaozi, not forgetting fortune cookies.
Finally, we will return home for a final super appetizer with bruschetta and wine!
Reviews
Cesarine - Super Street Food tour in ChinaTown (with final appetizer)
I just finished my first cooking lesson with Niccolo and Francesca, and it was more than I could've imagined. The food was great, and Niccolo was very informative and patient with me. The place was very clean and welcoming. I feel like I did really well and I was extremely grateful that he took the time to explain the ingredients and the connections between the food and his childhood. I can't wait until we return to Milan, so that I can take another class. Niccolo and Francesca thank you so very much for making this a trip to remember. You guys are beautiful inside and out! Peace and light.

Mi è stata regalata l'esperienza di cucina lombarda, gli ospiti sono stati gentilissimi e iper disponibili fin dall'organizzazione stessa della lezione, permettendomi di personalizzare menù e ingredienti. L'esperienza è stata fantastica, ho imparato moltissimi dettagli sulle paste fresche all'uovo e non (ebbene sì, esistono, mai sentito parlare di pici o di strascinati?). Il quid in più secondo me sono la conversazione e gli abbinamenti sia tradizionali sia innovativi proposti. Assolutamente consigliati

Excellent food and Excellent experience

I booked this team for a vegan cooking class as a solo traveler on holiday in Milan and I cannot stress enough how highly I recommend the class and both Niccolò and Francesca as chef instructors! I hit all the top attractions in Milan (Duomo, The Last Supper, Sforza Castle and art museums, etc.) but this class was ultimately my favorite part of the time I spent there. Niccolò and Francesca used both creative and traditional ingredients and techniques in putting together a vegan-friendly dinner that still felt (and tasted) like a true Italian home-cooked meal. In the end, we had a traditional, classic Italian three-course meal but made vegan! I was impressed with what I could accomplish during the class, including preparation of two versions of a vegan "frittata"/crepe, two types of pasta and a scrumptious tiramisu. While we cooked, they imparted plenty of wisdom regarding meal preparation and local ingredients, so the class provide extremely informative. For instance, I learned plenty about cooking techniques, how different ingredients affect pasta dough and how different cooking styles can affect the consistency and flavor of a sauce. Armed with some new skills and insights, I feel confident that I can recreate these traditional Italian recipes at home. The team was also extremely generous with me. We sampled two types of wine as well as a few dessert wines and they did not hesitate to share what was in their kitchen with me. Lastly, the evening was also filled with great conversation on Italian vs US culture, Milan and our similar lines of work. If I find myself back in Milan, I will make every effort to book with them again. Thank you so much Niccolò and Francesca! Elizabeth

Elizabeth Y.

 - 

January 2023
€189.00 per guest
€94.50 per child
Where
You'll receive the exact address after the booking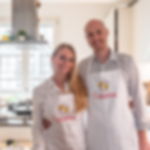 Niccolò e Francesca
Cesarina from 2022
Location: Milan    Languages: Italian, English, Spanish, French
"Hello everyone! We are Niccolò and Francesca, a thirty-year-old couple who have moved to Milan for over 10 years. We live in Milan city, in a beautiful neighborhood called Cenisio. We love this area because, in addition to being residential, it is strategic for reaching areas tourist like Garibaldi, CityLife, or Corso Sempione which takes us straight to the Arco della Pace. We love the world of food and wine. For us cooking is a family tradition: I am the grandson of a fantastic cook who has handed down to me since I was very small all the Tuscan traditions, from pappa al pomodoro to panzanella to homemade pici. I am also the son of a professional chef, from whom I have stolen some secrets of the trade. Francesca has two grandmothers who can be the envy of established chefs. real Romagna azdores who cook wraps, tagliatelle and lasagna very frequently. We love to eat, cook and above all share our dishes with friends. We also have a another passion: foreign languages! We speak English and French very well. Francesca is almost a native speaker of Spanish. It would be fantastic to share this passion also with tourists who decide to visit Milan and learn the tricks of Italian cuisine ".
Experiences you may like
FAQ
Families and solo travellers welcome