Cooking class: learn how to cook Italian recipes and taste the dishes prepared during the class
Your menu
Leeks and prunes
Gnocchi (homemade pasta) with sausage
Tart with sour cherry jam and seasonal fruit
Tradition in the kitchen to get to know Valcomino is the title of the experience that will take you to a bygone world that has managed to keep its rural-type cultural roots "intact."
Leek with Sweet Wilted Plums, Homemade Gnocchi with local potatoes seasoned with Black Pork Sausage, and finally Tart with Sour Cherry Jam will be a logical and tasty path to tell you about us valley dwellers and what we represent in Ciociaria. There will be no shortage of tales of the past and the legends of the Romans and the Volscians with their Megalithic Walls.
Reviews
There are no reviews yet.
€129.00 per guest
€64.50 per child
Where
You'll receive the exact address after the booking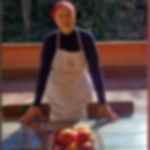 Patrizia
Cesarina from 2023
Location: Atina    Languages: Italian, French, English
"My cuisine is typical of the Ciociaria area with all the specialties of controlled and protected origin that you can find only in this area: from the cannellino di Atina which is a very tender white bean, excellent with hand-made maltagliata pasta with water and flour pecorino cheese and fresh local ricotta that we call "ditaline"; from Pontecorvo peppers to marzoline goat cheese with aromatic herbs. I often cook traditional soups with vegetables from the garden and stale bread, I prepare focaccia and many baked desserts characterized by that delicious "wood flavour" which never hurts. Being a sommelier, I also like to combine Cabernet and Cesanese wines, Passerina and biodynamic wines from native vines with the various dishes. Ultimately, my past restaurant experience predisposed me to the pursuit of quality and hospitality".
Experiences you may like
FAQ
Families and solo travellers welcome