Traditional menu: the Neapolitan Genoese sauce
5.0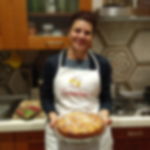 Spoken languages:  Italian and English
4-course Italian menu
Your menu
Garden fantasies and cheeses
Ziti pasta with traditional Genova sauce (sauce with meat and onion)
A traditional dish from Campania with very ancient origins. Traditionally, the main ingredient was milletThese days, semolina is generally used instead. It's cooked in a mixture of milk and butter and then combined with other basic ingredients such as eggs, sugar, and ricotta cheese.
For this lunch or dinner I propose the dish of the heart: The Genoese. This rich tomato-free ragu, prepared with lots of onions that turn into a delicious puree when cooked, is highly flavorsome and presents a sweet note. It's not a simple meat sauce but it is the maximum expression of love that a Neapolitan shows when he decides to cook you something special, good and long to make.
This delicious sauce will season the pasta. The meat will be served as a second course with a side dish of baked potatoes. We will conclude the meal with another ancient Neapolitan specialty: the sweet Migliaccio.
Reviews
Cesarine - Traditional menu: the Neapolitan Genoese sauce
We had a wonderful experience with Teresa and her family. We learned and made local recipes in a family ambiance. Teresa is very welcoming. In addition, the house is lovely with a stunning view. My wife is pregnant and Teresa adapted the menu to be sure she could eat everything. We highly recommend this experience.
€65.00 per guest
€32.50 per child
Where
You'll receive the exact address after the booking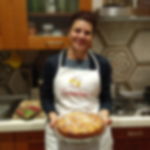 Teresa
Cesarina from 2022
Location: Vico Equense    Languages: Italian and English
"My name is Teresa and I am lucky enough to live in Vico Equense, a splendid town which boasts a world-famous food and wine tradition and which has given birth to some of the most famous starred chefs of the moment. I am a simple and hospitable person, I love share the pleasures of the table with relatives and friends. I often re-propose old family recipes but I don't disdain the charm of innovation and experimentation. My love for the home, the land, cooking and simple things make me bring to the table mainly vegetarian dishes based on vegetables and greens, strictly in season, grown by me and my family in a garden a few kilometers from my house (located in the city center).delicious provolone del monaco.My menus will obviously vary in based on the seasonality of the raw material.According to the best family traditions with the products of my garden I make preserves of all kinds, from pickled oil to jams to finish with tomato preserves".
Experiences you may like
FAQ
Families and solo travellers welcome