Special Italian Menu
Your menu
Tasting a recipe with the right wine creates a harmony of flavors that can remain etched in the palate as much as in the mind of each of us. So why not take advantage of all the deliciousness that our land has to offer! Rich in an important agrobiodiversity, the terroir_ of Campania produces several varieties of wines to which we can pair tasty recipes**.**
Menus
Seafood sauté and squid skewers (served with a flûte of Falanghina Frizzante)
Shrimp and zucchini risotto (served with a still white wine)
Breaded tuna with herbs (served with a still white wine)
Baba and Sfogliatelle Mix (served with house bitters and liqueurs)
Reviews
There are no reviews yet.
€95.00 per guest
€47.50 per child
Where
You'll receive the exact address after the booking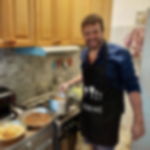 Pierluigi
Cesarina from 2022
Location: Naples    Languages: Italian and English
The dishes that I mainly love to cook range from the sea to the land, according to the teachings of my father (the cook of the family) and of an aunt with whom I spent part of my childhood. More generally, I can present my kitchen like this: - Passion: without this it will be difficult to prepare dishes that are worth tasting; - Sociality: wanting to share with guests the stories that hide behind what has been prepared; - Love for one's land: knowing how to cook is not enough. Loving the place where it is made and the ingredients that the territory produces means offering 0 Km recipes characterized by authenticity and traceability; - Curiosity: towards food and its guests. Experimenting can give life to unimaginable flavors and combinations and listening to what the diners have to say can open up a world of ideas not initially considered; - Respect for Tradition: when you choose to cook some recipes you are relying on all the teachings that grandmothers, aunts and parents have handed down. Add your own to enrich them but remember their origin, add that touch of love that will make them unforgettable.
Experiences you may like
FAQ
Families and solo travellers welcome