Unique Experience in Cinque Terre Vineyard with Show Cooking
5.0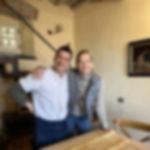 Spoken languages:  Italian and English
4-course Italian menu with cooking demo
Your menu
Vellutata with Fresh Seasoned Veggies
Handamde Ravioli with Ricotta Butter and Sage
Salsiccia di Pignone
Crostata ribaltata con marmellata locale
Podere Ferrari
Guests will reunite for Max's cooking show and learn how to make handmade pasta in an exclusive location inside the villa's barn that overlooks Sarah's vineyard. Max's Magic Show along with wine from Sarah's vineyard, are the notes for rejuvenating alchemy amid nature, for an experience of learning about and interacting with nature's ingredients! After visiting the historic villa and its cellars, guests will be ready to enjoy a typical dinner with local products. They will truly feel at home in a unique setting far away from the hustle and bustle.
Reviews
Cesarine - Unique Experience in Cinque Terre Vineyard with Show Cooking
We had such an amazing experience!! Greeted with lovely food and wine, it started out the night perfectly! Sarah and Max were so kind and patient! The location was phenomenal! Truly it made you want to pack up and move to Italy! We are not particularly good with cooking but Max helped foster an environment of learning and grace! Luckily he is amazing at cooking and turned our rough and ready pasta into delicious dishes! Thank you so so much for the warm hospitality!! We will absolutely be back!!!

I cannot recommend this experience enough! The property itself is worth a visit, but the class elevates it to a truly unique and special experience that we will cherish forever. The house and the surrounding vineyard are perched on a hill overlooking the mountains, which really makes you feel like you're getting the traditional Italian cooking experience! The class itself was a blast. Massimo is incredibly knowledgeable and is excited to share his knowledge with the visitors. The food was easily the best meal I have ever had, and it was so fun to be able to make it myself. I can't wait to come back!

Ellie Crowley

 - 

June 2023

Beautiful location and incredible class! The teacher was great, and the pasta could not have been better. The vineyard is absolutely stunning and the farmhouse is the perfect location to learn how to make Italian cuisine. Will definitely be back with friends and family!

I've traveled to this region of Italy before but with this hidden little gem of a cooking class, I finally felt like a local! The vineyard was breathtaking, the al fresco kitchen just beyond. Of course the wonderful chef was not only a great pasta teacher, but as patient as he is charming. Can not wait to share my new skills when I get home.

Diana Craddock

 - 

June 2023
€85.00 per guest
€42.50 per child
Where
You'll receive the exact address after the booking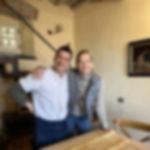 Sarah & Massimo
Cesarina from 2023
Location: Riccò del Golfo di Spezia    Languages: Italian and English
We're Sarah and Max, passionate about traditional Italian cuisine. Our menu showcases the best of Liguria and Emilia Romagna. Join us in 5 Terre for a delicious dining experience! SARAH: "I am not the typical Cesarina as I am American. I lived 30 years with an Italian grandmother, my lovely mother-in-law Nonna Silvana, who passed on her love for Ligurian cuisine to me. I would like to share the memories of the aromas and flavors of her cuisine and honor her by preparing the recipes she taught me, such as pesto with croxetti, rice cake, stuffed vegetables and the traditional mesciua soup." MAX: "Hello there, I'm Max and I'm a "sfoglino" - an expert in the art of rolling out fresh pasta using just my rolling pin and hands. If you share my passion for fresh pasta, I'd love to show you, your friends, and your family how to make the tagliatelle and stuffed pasta that are typical of my region. And who knows, perhaps we can sit down together and savor the delicious results of our hard work!"
Experiences you may like
FAQ
Families and solo travellers welcome