Vegan experience in company!
5.0
Cooking class: learn how to cook Italian recipes and taste the dishes prepared during the class
Your menu
Bruschetta with oil and vegetables from the garden
Gnocchi (homemade pasta) with pesto
Apple pie
Companion vegan experience
I love being in the kitchen to prepare delicious dishes as well as beautiful and mindful of sustainability and thus the wonderful nature around us!
Sharing a lunch or dinner in great company by putting your hands in the dough is one of life's pleasures, all it takes is simple gestures and the right ingredients!
We will prepare bruschetta with homemade bread baked in our home wood-fired oven, combined with vegetables from the garden and small crispy lentil burgers. In Verona, you can't miss the famous potato gnocchi on the table, which can be dressed with a variety of sauces, and to finish, an apple pie that is so family friendly.
Excellent local wine will accompany all the dishes, and there will be no shortage of homemade liqueurs and lots of serenity!
Reviews
Cesarine - Vegan experience in company!
My cousin Ana and myself have the best experience of our trip to Italy with Aurora. She welcomed us in her cute house with a smile in her face and with all the charm that an Italian has! Watching her while she was cooking and explaining all the meals with so much love was amazing. We throughly enjoyed the meals, the wine we had with each course were super tasty and the explanation of the food and type of wine made the experience even better. Her niece and nephew were there to help us translating the conversations and we had so much fun! I super recommend this experience - your heart will melt for Italy and for this family.

Taiana Tambosetti

 - 

May 2023

This was the most wonderful experience during our stay in Verona. Aurora welcomed us into her home and made us feel like family. She was so knowledgable about Italian cooking and we were able to learn quickly and had so much fun participating. I recommend this to anyone interested in a fun afternoon, great food and learning to cook!

Aurora is the exceptional hostess who knows how to maintain the perfect balance between humor and professionalism when it comes to teaching her cooking class of authentic pasta.The aura of her beautiful Italian kitchen and dining area will make you feel at home but better, at home in Verona. I've never learned something in my life with such enjoyment and downright fun. Props to Chef Aurora and if anyone is looking for a fun activity outside of tourism, look no furthur.

Aurora is a warm and welcoming host with a beautiful home, where she made my friend and I feel totally at ease from the moment we arrived. We laughed as much as we learnt, which was alot! As well as teaching us practical, traditional techniques, she shared the interesting history behind the dishes we made. The ingredients we used were excellent quality and oh so fresh! I would recommend this experience in a heartbeat.

Aurora was superb! She welcomed us in to her lovely home, and treated us as one of her own! We made fresh Gnocchi, Tagliatelle and Tirimasu, all of which was explained and demonstrated clearly, best of all we got to eat all of this with Sauce, freshly made by aurora. And partnered with delicious local wines. We ran well over time, chatting after dinner with Aurora and her brilliant assistant, we had a lovely evening. We will be back the next time we're in verona! We were visiting on our honeymoon, and Aurora even bought us a beautiful traditional Italian wedding present, such a lovely touch! 100% reccomend!

Josh and Elle Rowe

 - 

September 2022
€129.00 per guest
€64.50 per child
Where
You'll receive the exact address after the booking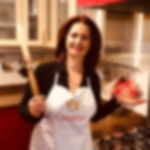 Aurora
Cesarina from 2021
Location: Verona    Languages: Italian, English, Spanish, German
"I love cooking for my family and friends, it's my way of showing them how much I love them and I want them to be happy and satisfied to approach the table with harmony and carefree."
Experiences you may like
FAQ
Families and solo travellers welcome