Cooking class followed by lunch or dinner with the recipes prepared during the class.
Your menu
Savory pie with sapori dell'orto
Fettuccine with asparagus pesto
Light tiramisù
Learn to cook two classic Italian dishes in a warm and welcoming environment in Venice. During this class, I'll guide you in preparing homemade fettuccine and the famous Tiramisù dessert. We'll use fresh, high-quality ingredients to create these traditional dishes that will make you feel right at home. Plus, you'll get to taste your creations paired with a glass of local wine. Come and experience an unforgettable culinary and cultural experience in Italy with us!
Reviews
There are no reviews yet.
€129.00 per guest
€49.50 per child
Where
You'll receive the exact address after the booking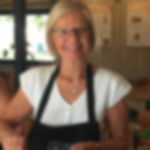 Daniela
Cesarina from 2022
Location: Venice    Languages: Italian and English
"My name is Daniela, I'm 61 and I've lived in Venice for seven years. I love cooking but above all I care about the well-being of those who sit at my table. I have a diploma in holistic consultant in natural nutrition and I attended a cooking school natural, but above all I am a cook for passion. I prepare with the same care menus based on fish, vegetarian, vegan, gluten or dairy-free, delicious sweets without white sugar, butter, refined flours. "Healthy" dishes arrive on my table but flavors that usually thrill my guests. Mine are often "revisited" traditional dishes. I am therefore very attentive and sensitive to any food intolerances that many people suffer from today. When I travel, I myself often have difficulty finding restaurants and dishes that meet my needs, so I'd like to be at your service and offer healthy and delicious dishes to anyone who needs them for wellness/health issues".
Experiences you may like
FAQ
Families and solo travellers welcome