Verona Market Tour & Exclusive Dining Experience
5.0
Food Tour: discover the best places where to taste the finest local food & wine
Your menu
Join me for a market tour in the heart of Verona, showcasing the finest local ingredients from the Veronese region and beyond, while exploring the delights that characterize Italian cuisine. This unique experience takes place at the Specialized Refrigerated Station, known to locals as La Rotonda due to its circular shape.
After the tour, we'll head to my home to share an unforgettable culinary adventure: a three-course meal (appetizer, main course, and dessert) made with products handpicked directly from the market.
Reviews
Cesarine - Verona Market Tour & Exclusive Dining Experience
We could not have asked for a better experience! Michella was warm, friendly, and very knowledgeable. I highly recommend Michella for your host!

My host was absolutely amazing. Very informative and patient. Answered all my questions. Made me feel at home in her home. This was the highlight of my trip. If your planning a trip to Verona this is a MUST DO! After learning how to cook the recipes you get to enjoy the fruits of your labor. It was all delicious and unforgettable

Our experience was wonderful. We were welcomed in a lovely and comfortable home and enjoyed a fabulous meal. Michela even shared some of her recipes with us!

Michela was a wonderful host, so very warm and welcoming. The meal was delicious, family recipes cooked with fresh local ingredients, I loved everything. Michela even translated the recipes so that I could try them at home. The food and company was perfect and I had a lovely evening. I would recommend this experience to all, both for groups and individuals travelling alone as I was. Special memories to be treasured.

Michela was very welcoming and skillful with us and our 2 teenagers. She made the whole experience immersive and taught us about Italian culture and foods. We had a memorable experience and enjoyed the setting in someone's kitchen. Really lovely.
€189.00 per guest
€94.50 per child
Where
You'll receive the exact address after the booking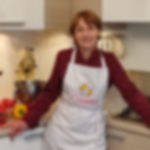 Michela
Cesarina from 2021
Location: Verona    Languages: English, French, Italian
Michela is from Verona, she has always lived in Verona, a city of art and love. Her apartment is a few steps from Piazza Brà, in the city center. The hills with its vineyards, Lake Garda with centuries-old olive trees and the Lessini mountains surround the monuments of a city with magical views. Her passion for cooking is a family legacy. Grandmother Laura and mother Bibi involved grandchildren and children in the preparation of long and short fresh pasta, lasagna, tortellini and tortelli, meat main courses with side dishes and desserts. "In the kitchen I try to convey the value of simplicity, but at the same time I am always ready to experiment with new dishes, mainly using the typical products of the Verona area."
Experiences you may like
FAQ
Families and solo travellers welcome