Il calamaritto, gnocchi al pesto, friscieu con zebibbo
5.0
Corso di cucina: impara a cucinare le ricette della tradizione e gusta i piatti preparati durante il corso
Il tuo menu
Calamari in guscio morbido
Gnocchi di patate al pesto
Friscieu di zebibbo
Cari amici, quando verrete a trovarmi troverete un grande appartamento nel cuore della Genova vecchia. La location risale al '700, proprietà di un'antica famiglia di nobili genovesi.
Dista a pochi passi dal più grande centro storico d'Europa, quello dei Palazzi dei Rolli nella via Aurea Garibaldi, dove il tempo si è fermato al Cinquecento. Il Doge con i nobili genovesi abitavano questi palazzi ricchi di dipinti barocchi, tappeti persiani e oggetti dell'antica Cina con cui la Repubblica Marinaia di Genova teneva i primi noli di navigazione; oggi sede di musei magnifici.
I piatti che faremo insieme:
Il calamaritto, racchiuso in un guscio di pane e salse aromatiche, gnocchi di patate e pesto DOP, frittelle e zebibbo, il pandolce genovese.
Recensioni
Cesarine - Il calamaritto, gnocchi al pesto, friscieu con zebibbo
We had a wonderful time with Tiziana and husband at their beautiful home in Genoa. They made the day so much fun from the second we stepped into their house. While we had some "broken" Italian, we were able to communicate with them via Google Translate and work on our Italian. The food we cooked was so amazing and very traditional which was so much fun! This intimate cooking class was so much better than any larger group cooking class we have ever done. We were able to share stories and learn about each other as well as they helped us plan our next stop of our trip!

Kathleen and Zak

 - 

luglio 2023

Tiziana and Roberto welcomed us into their home as if we were family. We had looked at many cooking classes online but I'm so glad we chose this one! Our hosts were excellent at helping us through each step of the process and we shared many laughs along the way. The meal we made was delicious and we can't wait to cook these recipes for our family. We can tell that Tiziana and Roberto are extremely passionate about what they do, and thoroughly knowledgeable as well. I highly recommend this experience to anyone visiting Genoa, as it is one you won't forget!

This experience with some thing that me and my wife will remember forever. We came here on our honeymoon and Roberto and Tiziana were such amazing hosts. We were first spoiled with homemade focaccia bread and delicious Italian wine upon arriving. We were welcomed into their home, as if we were family, and we truly felt the love from the very moment they opened the door. We made Tiramisu, ravioli, and pesto, lasagna. The recipe and instructions were very easy to follow. The food, was incredible. Me and my wife can never really look at Italian food the same after this experience. They used such a simple ingredients yet, they were cooked with so much love that they tasted, absolutely perfect. Tiziano was patient and kind with us while showing us the techniques to properly make the food. Roberto documented the whole thing with his phone and our phone to get multiple angles and video to go along with the photos. They also sent us every video and picture that they took on their devices as well. We had great documentation of our wonderful time we had with them. While the food was cooking, we sat down with Roberto and ate the first course of the meal, and he explained the history of Genoa to us. It was very interesting to learn about the area we were in. We found out more history about them and their beautiful home. As our time with them closed, Roberto gave us the gift of his knowledge and expertise of Genoa and Portofino for our future travels. He told us where to go in Genoa to get the best experience and to not waste money on the bus tours or taxi services. He showed us how to see the city within a reasonable walking distance. We ended up seeing so much more of Genoa than I think we would have if we were just sitting on a bus being driven around town. His recommendations for Portofino restaurants were absolutely incredible. We ended up going to a wonderful Italian restaurant, as well as a gelato shop in Portofino upon his recommendation. These places were truly a sight to behold. We had a wonderful time with them and look forward to keeping in touch with them. Hopefully we will be visiting them again in the future. This experience is truly worth its price and much more. Me and my wife highly recommend visiting these wonderful people.

A Delicious Once in a Lifetime Experience!

 - 

settembre 2023

We had a wonderful day with Tiziana and Roberto in Genoa. They were such warm and welcoming hosts, and they really took the time to teach us about Italian cuisine. We started the day at the market, where Tiziana and Roberto showed us the freshest ingredients that would be used in our dishes. Then, we headed back to their home, where we cooked zucchini flowers, gnocchi with pesto, tagliatelle with tomato, and tiramisu. Tiziana and Roberto were knowledgeable and took time to explain each step of the cooking process, and they were always happy to answer our questions. We had a lot of fun in the kitchen, and we learned a lot about Italian cooking. The food we cooked was delicious! The zucchini flowers were light and flavorful, the gnocchi with pesto was incredible, and the tagliatelle with tomato was simple but perfect. The tiramisu was the perfect end to the meal. I would highly recommend this cooking lesson to anyone who is interested in learning about Italian cuisine. Tiziana and Roberto are a great team, and they will make you feel welcome and comfortable in their home.

We docked in Genoa while on a cruise. We booked a class with Tiziana and she welcomed us in her home. She taught us to cook gnocchi as well as pasta. Everything was delicious and we are excited to try these at home. Her bubbly personality and the hospitality shown by her, Roberto, and their son's girlfriend made it feel more like a morning spent with friends than a cooking class. It was a highlight of our trip! If you are going to be near Genoa, I would highly recommend spending some time with Tiziana and her family.

Mindy Patterson

 - 

agosto 2023
129,00 € 
per ospite
(64,50 € 

per bambino)
129,00 € per ospite
64,50 € per bambino
Dove
Riceverai l'indirizzo esatto dopo aver prenotato.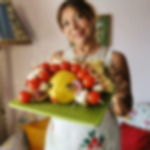 Tiziana
Cesarina dal 2022
Città: Genova    Lingue: Italiano e Inglese
"Le delizie di Tiziana, sono un mix di cucina tradizionale ligure , con contaminazioni veneziane e calabresi. La mia famiglia ha origini legate a queste tre regioni e la mia passione per la cucina e l' accoglienza nasce da quando ero una bambina. Già a otto anni organizzavo le feste a casa mia e sceglievo il menù con la mia mamma Maria, veneziana doc cresciuta a Genova, che mi aiutava e nel frattempo io imparavo. Nella mia dimora, che si trova nel cuore di Genova ubicata in una "creuza de ma " ad un passo dal Centro storico di Genova, propongo una cucina molto eclettica: dal cappon magro della tradizione ligure nella sua dimensione più sfarzosa , alla cima curata come una divinità che si realizza dopo lunghi passaggi, per finire con il pesto, preparato con il basilico raccolto nel giorno giusto appena germogliato. Una cucina che trasmette amore oltre che gusto e buon umore per giorni e giorni".
Potrebbero interessarti
FAQ
Perché prenotare con Cesarine?
Famiglie e viaggiatori solitari, Benvenuti!