Home restaurant
Pranzo e cena con la natura viva
5.0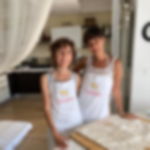 Lingue parlate: Italiano, Spagnolo, Inglese
Menù tipico a 4 portate composto da antipasto, un primo pasta fresca, un secondo con contorno, un dessert e vino incluso
Il tuo menu
Crema di carote, lenticchie al sapore di Agrume
Risotto al finocchio
Cotolette di ceci
Torta di mele e cannella con cioccolato
Il colore dei piatti rende viva la cena. Menù vegetariano a base di verdure e legumi.
Reviews
5.0 su 5 - 12 Recensioni
Cesarine - Pranzo e cena con la natura viva
We had so much fun with Barbara and Paola. Welcoming, friendly, and able to adapt and accomodate my temporarily one-handed husband (due to a broken arm). Very excited to have learned to form tortelloni. Loved the language exchange, getting to practice my little bit of Italian and to help with phrases in English. From the welcoming drinks on the balcony to the after lunch coffee, it was a relaxed time and a pleasure to get to know two lovely Italians. Mille grazie! And you are welcome at our place to Oregon to cook Pacific Northwest food anytime

Rebecca and David

 - 

agosto 2022

We had a very nice evening with Barbara and Paola. We made fresh tagliatelle the authentic way and meatballs with mortadelle, ricotta and pistachio. We also made the best tiramisu (which I normally don't like, but they convinced me.) I can only recommend barbara and paola! They are so sweet and hospitable. They made my holiday complete. When I come back to bologna, I want to meet them again and make new dishes with their spontaneous, friendly hospitality. I would dare to say that I love them. A thousand thanks for the wonderful evening

Chayenne Van Den Steen

 - 

agosto 2022

We had an amazing morning with Paola and Barbara, we enjoyed a really good and fun workshop, learned to make tiramisu and two types of pasta. At the end we sat and ate the pasta we made. Highly recommended workshop!

Oren, Omer and Ido

 - 

luglio 2022

I had an excellent afternoon learning how to make fresh pasta. The girls are fantastic teachers & super friendly. I highly recommend this to anyone looking to learn how to make pasta

Matt McGuinness

 - 

luglio 2022

My daughter and I had the best evening with Barbara and Paola. They are so patient. Making tortellini is not easy but they made the whole evening so fun. Highly recommend spending an evening learning to cook with these two beautiful women.

Great food with new friends

 - 

luglio 2022
65,00 € per ospite
32,25 € per bambino
Dove
Riceverai l'indirizzo esatto dopo aver prenotato.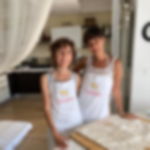 Barbara e Paola
Cesarina dal 2022
Città: Bologna    Lingue: Italiano, Spagnolo, Inglese
Barbara e Paola ci accolgono nella loro casa a Bologna. Barbara, dopo tanti anni di lavoro in banca, ha deciso di fare il bed and breakfast nella sua casa, un appartamento in zona fiera di Bologna, realizzando un sogno. "Amo cucinare, utilizzando i prodotti di stagione acquistati direttamente da chi li produce. È bello accogliere gente in casa, attorno alla tavola, le persone si incontrano, si raccontano e si nutrono in tutti i sensi!". Paola è nata nelle lande ferraresi, ma è bolognese d'adozione. "Delle origini mantengo i ricordi di bambina delle estati trascorse nell'orto a giocare e a lavorare la terra con il nonno e le ricette di piatti poveri tramandate dalle donne della famiglia. La domenica la sfoglia tirata rigorosamente con il mattarello...mi incantavo ad osservare la maestria di mia madre e di mia nonna. Da loro ho imparato a fare i cappelletti prima e i tortellini poi, dopo la nostra "emigrazione" a Bologna."


FAQ
Perché prenotare con Cesarine?
Famiglie e viaggiatori solitari, Benvenuti!