Corsi di cucina
Segreti di famiglia: pasta fresca e tiramisù
5.0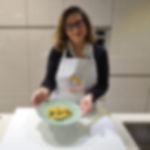 Lingue parlate: Italiano e Inglese
Corso di cucina con una ricetta di pasta fresca e a seguire un menù a 2 portate composto dal piatto oggetto del corso più un dessert preparato da te
Il tuo menu
Pasta fresca: tagliatelle o ravioli
Tiramisù
"Segreti di Famiglia" consiste in una lezione di cucina italiana unica. Vi aprirò la mia casa, un bellissimo attico con vista mozzafiato sulle Alpi Svizzere, Como e Monte Rosa. Verrai accolto con un tipico aperitivo italiano (spritz e snack con prodotti locali) e mangerai i golosi piatti preparati da te, accompagnati da ottimo vino rosso o bianco e limoncello preparato dalla padrona di casa.
Ti insegnerò tutti i segreti per realizzare due piatti iconici di pasta fresca: le tagliatelle e dei golosi ravioli. Ma che ne dici di portare a casa anche un ricordo molto dolce, che rimarrà nel tuo cuore per sempre? Il segreto del solo e unico tiramisù: una ricetta di famiglia che segue quella della tradizione. Al tuo ritorno, stupirai i tuoi commensali con queste deliziose ricette autentiche!
Reviews
5.0 su 5 - 17 Recensioni
Cesarine - Segreti di famiglia: pasta fresca e tiramisù
We spent a lovely rainy day with Carolina and her family learning to make pasta and tiramisu. The experience was more than just a cooking class…we also were able to learn many things about the region, the culture, and Italy's cuisine. Sitting down with the family to enjoy the food we made was a highlight. We look forward to sharing our new skills with family at home.

Kerry and Reilly

 - 

gennaio 2023

Best cooking class with the best hosts. Our takeaway from this was uncasing the sausage to cook! They are very hospitable and kind. Beautifully decorated kitchen and home. Wonderful experience overall.

angelique aladray

 - 

ottobre 2022

My friends and I from New Jersey had *the best* time with Carolina, Simone, their dad, and their pug Tyrion! They welcomed us into their home and made sure we felt comfortable and had fun. You can really tell how passionate and knowledgeable Carolina is sharing her love for the cuisine and being so patient with us. Simone was lovely as well, would highly highly recommend for anyone looking to make pasta in the Lake Como area.

Trixie Jose

 - 

ottobre 2022

My friends and I went on a trip to Lake Como for my birthday and we decided to take a cooking class. Luckily we had this wonderful family teach us how to cook amazing pasta and make tiramisu. From start to finish it was an amazing experience, we truly felt at home while cooking and dining with them. All of us has so much fun and on top of that we learned so much about the culture and how much it takes to create pasta from scratch. Carolina and her family were so welcoming, it felt as if we were with people we knew for so long. The conversations and the food were definitely a core memory I will have for the rest of my life. Thank you Simone, Carolina, Antonio, and Tyrion! for such an amazing time.

Kevin Estor and Friends

 - 

ottobre 2022

We met Carolina and her family for a team-building event for 6 people. We had a fantastic welcome and an excellent time, experience, and food. The atmosphere was really nice, and nobody was speaking during lunch because the food was sooooooo good. We are very happy with this experience and would recommend Carolina to anyone.
80,00 € per ospite
40,00 € per bambino
Dove
Riceverai l'indirizzo esatto dopo aver prenotato.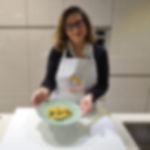 Carolina
Cesarina dal 2020
Città: Cantù    Lingue: Italiano e Inglese
"Cucinare è la mia più grande passione: quando sono stanca o pensierosa mi metto ai fornelli, perché questo è l'unico modo che conosco per rilassarmi. Adoro ricevere amici e conoscenti e proporre loro i piatti della tradizione lombarda, ma mi piace anche sorprenderli con alcune ricette tipiche della Campania, la mia regione di origine. La mia casa è grande e accogliente, e gode di una splendida vista su Como, le Alpi Svizzere e il Monte Rosa."
FAQ
Perché prenotare con Cesarine?
Famiglie e viaggiatori solitari, Benvenuti!