Cooking lesson: learn how to cook Italian recipes with a local Cesarina
Your menu
By now I specialize in making great gluten-free focaccia pizza, tall, crispy at the base and super tasty! Our friends are lining up!
Let's prepare it together, it takes a little time but the steps are simple and you just need to know a few tricks...At the end we will taste the pizza with a good beer in the living room and if possible in the garden...watching the dome of St. Peter's emerging from the clouds! A secret? We produce the oil ourselves! My husband and I will be waiting for you at our house!
Reviews
There are no reviews yet.
€129.00 
per guest
(€64.50 

per child)
€129.00 per guest
€64.50 per child
Where
You'll receive the exact address after the booking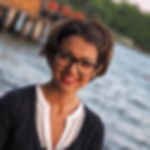 Nilde
Cesarina from 2022
Location: Sacrofano    Languages: English and Italian
"My name is Nilde, I am 40 years old, originally from Calabria, at 18 I moved to Rome to attend university. I inherited the passion for cooking from my mother. She has always been in the kitchen from a very young age, cooking for the whole family: there has never been a Sunday or a party or birthday or other occasion in which she did not try her hand at large banquets where fresh pasta was never lacking. but no. I have always messed with her and then, from the time of my studies until today, I have prepared countless lunches, dinners and aperitifs for me, my sister, friends and my husband. Together with him, a celiac, we decided to share my passion with the outside world, opening not only my kitchen, which is made up of many home-made gluten-free products, but also our home, which is a bit our pride , a great goal of life together.

I love the tradition that ranges between Calabrian and Roman recipes, but also innovation, with particular attention to celiac disease to give even to those who cannot eat gluten delicious dishes and an excellent pizza!

Me, my husband and our beloved puppy Diva will be happy to introduce us and to host you in a country house, 20 kilometers from Rome, in a splendid garden where you can have lunch or dinner by the pool with a special view directly on the Dome of St. Peter."
Experiences you may like
FAQ
Families and solo travellers welcome