Dining experience: take a seat and enjoy an authentic Italian meal with a local Cesarina
Your menu
This special menu features traditional and typical dishes such as polenta with meat, game, vegetable, or mushroom stews, and any seasonal ingredients available: polenta concia in all its variations, and tasty, authentic homemade desserts. Enjoy excellent wines, homemade liqueurs, and a hot Valdostana coffee.
Reviews
There are no reviews yet.
€95.00 per guest
€47.50 per child
Where
You'll receive the exact address after the booking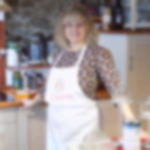 Franca
Cesarina from 2018
Location: Châtillon    Languages: French, English, Italian
Valle d'Aosta is the ideal place to enjoy traditional dishes, visit castles and, in summer, gaze at the star-filled sky while surrounded by nature. "I think I was born in the kitchen. I was lucky enough to have stay-at-home grandmothers who were very skilled in preparing local traditional foods," recounts Cesarina Franca. Franca's cooking is first and foremost based on using fresh products. She grows her own vegetables in the garden, collects wild herbs and mushrooms from the places her grandmothers took her to as a child. Everything else that she needs, such as eggs, cheese and meat, she buys near her home, directly from local breeders and farmers. Since Valle d'Aosta is an area that combines Italian, French and Swiss traditions, Franca's cooking is full of surprises.
Experiences you may like
FAQ
Families and solo travellers welcome