Special Italian Menu
Your menu
A day immersed in the uncontaminated nature of our territory with a small trekking of about 1 hour to reach the destination.
The main recipe of the daily menu will be prepared on the spot with cooking on the fire and lunch will be at the edge of the waterfall; the main dish will be "lu finnarill", a dish made of vegetables, the inevitable our home peeled tomato with the addition of seasoned sausage and eggs. The menu will consist of an appetizer of cold cuts, cheese and spaghetti omelette, the main course and a dessert. In order to take part to this event, which is a spring and autumn tradition for us, a light physical preparation and the use of trekking clothes are needed. The event will be possible only in good weather conditions.
Reviews
There are no reviews yet.
€95.00 per guest
€47.50 per child
Where
You'll receive the exact address after the booking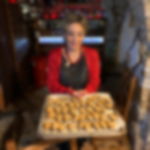 Barbara
Cesarina from 2021
Location: Montagano    Languages: English, Italian, French
"My house and especially my tavern are always full of friends. I like to rediscover the recipes of my country and those handed down orally by my mother-in-law; there are evenings dedicated to pizza cooked with our wood oven or even focaccia prepared with the typical recipe of the Ligurian tradition, this for the teaching received from a Genoese aunt. Montagano is a town renowned for its native De.co. tomato sweet, also used for excellent jams to match with cheese. It is also famous for the Moscatello grape variety that produces a wine, or passito, of intoxicating sweetness and recognized in the international field for over a century. Here you can breathe clean air surrounded by nature and tranquility."
FAQ
Families and solo travellers welcome