Welcome to my tasty family lunch
5.0
4-course Italian menu with cooking demo
Your menu
It will be a typical Roman lunch, I will show you how to prepare a real Roman "cacio e pepe" and then all together at the table, after the first courses there will be the rolls as grandmothers used to make them on Sundays and to finish the Roman briosce or maritozzo home made, of course, and stuffed with whipped cream !
Reviews
Cesarine - Welcome to my tasty family lunch
My fiance and I visited Claudia's beautiful home during our short trip to Italy this summer. We had an unforgettable evening. Claudia and her husband are extremely kind, warm, and generous hosts. Our experience was so much fun and the food was delicious! It was particularly great to escape Rome for a few hours and experience a different pace of life (away from tourists) in the Italian countryside. We will definitely do this again when we return to Rome. I cannot recommend this experience enough!
€85.00 
per guest
(€42.50 

per child)
€85.00 per guest
€42.50 per child
Where
You'll receive the exact address after the booking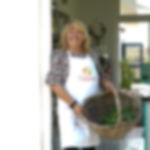 Claudia
Cesarina from 2018
Location: Zagarolo    Languages: Italian, English, French
Claudia's home is just a short drive south from Rome, in the charming town of Zagarolo. Immersed in the rolling countryside, relax and unwind as you admire the gorgeous olive trees, grapevines, endless orchards and aromatic fields of wild herbs. Claudia will welcome you into this little corner of paradise, showcasing her love of the Lazio region's cuisine. She has always cooked, both at home and professionally. However, her most cherished recipes were handed down by her grandma Livia, who taught her exactly how to use their local ingredients to perfection.

Experiences you may like
FAQ
Families and solo travellers welcome