Special Menu: Umbria "Queen of Butchery" and Oil
5.0
Dining experience: take a seat and enjoy an authentic Italian meal with a local Cesarina
Your menu
The ancient art of pork butchery, knowing how to process pork, is the focus of this special experience.
We will present typical Umbrian cured meats, sausages, pork to be enjoyed strictly roasted over the embers, all accompanied by homemade bread and seasoned with the Km 0 evo oil from our olive grove, cultivated with passion and produced by my husband.
We will taste the food with vegetables from our garden and with an excellent local wine.
In the summer season the meat will be cooked in a barbeque in the garden, where you can then have lunch or dinner while enjoying the view of the Umbrian Valley hills.
In the winter months, the fireplace inside the house will be the star of the experience
Reviews
Cesarine - Special Menu: Umbria \"Queen of Butchery\" and Oil
This was an incredible experience. We felt so welcome in Sara's home and kitchen. The food was fabulous and the company just as good. This was an amazing way to learn about Italy, but mainly Umbria and it's traditions and food culture. Best Olives and Olive oil I've ever tasted! Her family was so kind and welcoming. I would highly recommend this experience to anyone who enjoys good food and wants to have a more personal experience!!

We are so thankful to Sara and Angelo for welcoming us into their beautiful home and providing exceptional hospitality. We were taught how to make Torta al testo, Tagliatelle, and Tiramisu and then we got to feast on these wonderful dishes. What a great experience! The view from their home is spectacular as are the gardens and olive trees. This was absolutely the highlight of our Italy trip so far. We are blessed to have them as friends. If you are coming to Assissi you need to make a stop at Sara and Angelo's home. You will love every minute of it!

This is a must-do when in the area of Assisi. Sara (and Angelo) welcomed us into their beautiful home and spent time teaching us hands-on to make cheese biscuits, gnocchi, and tiramisu. She even made gluten free accommodations. Then we were treated to a wonderful aperitif and local wine. Their property is breath-taking amongst the garden and olive trees. We truly had the best day and felt like part of the family. Please arrange an unforgettable class and experience with Sara. Time and money well spent.

the Sparlings - USA

 - 

April 2022

Our evening with Sara could not have been better. She and Angelo were gracious hosts, welcoming my husband and I into their beautiful home, patiently teaching me to make strangozzi, torta al testo and tiramisu. It was a fabulous experience and one of the highlights of our ten days in Italy. I highly recommend a class with her. It was an authentic, memorable experience. I only wish we lived closer!

Sara and her husband Angelo were such wonderful hosts. They welcomed us into their beautiful home where they showed us their land and their olive grove. They spoiled us with great Italian hospitality. We learned how to make some of her signature dishes and we enjoyed dinner together with her and Angelo. Overall, it was a wonderful experience and we would highly recommend Sara as an excellent Cesarine host.
€95.00 
per guest
(€47.50 

per child)
€95.00 per guest
€47.50 per child
Where
You'll receive the exact address after the booking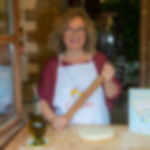 Sara
Cesarina from 2021
Location: Assisi    Languages: Italian, English, Spanish, French
"Everyone calls me Sara, short for Cesarina, a name inherited from my paternal grandmother, undisputed queen of the kitchen. Not only was she a model for me, but also my Mamma Liliana, my Aunt Ines, my mother-in-law Nunzia. I have a nice potpourri of regional recipes that characterize me, being born in Lazio, then for love lived in Puglia and for choice landed in Umbria, where we formed family and created our home, nestled in the hills of Assisi. So why not become a real Cesarina. I love cooking in all its facets: sweet, salty, preserved, but above all the pleasure of cooking for my family and my guests."
Experiences you may like
FAQ
Families and solo travellers welcome