Be pampered by a tasty menu of traditional
5.0
Cooking class: learn how to cook Italian recipes and taste the dishes prepared during the class
Your menu
Baked bread with sausage and soft white cheese
Herb Tortelli (homemade pasta) with butter and Parmigiano Reggiano
Tart with homemade jam
Come and learn about traditional Parmesan cooking! We will get our hands in the dough to make the puff pastry for tortelli d'erbetta and the shortcrust pastry for tart. It will be fun and relaxing and you will see that it will not be difficult and you can replicate the recipes at home to enjoy with family or friends!
Reviews
Cesarine - Be pampered by a tasty menu of traditional
Dopo questo incontro, le mie figlie hanno rifatto la crostata e le tagliatelle (buonissime!). Paola ci ha trasmesso la passione per la cucina, per i dettagli e per le tradizioni di Parma. Piacevolissimo il pranzo in compagnia e magnifica la casa. Complimenti!

eccellente, simpaticissima, gentilissima!

We had a fantastic time with Paola, strolling through the city, visiting some markets, learning more about Parma. Their home is lovely and making tiramisu and tortelli with her was so much fun. She and Marco are delightful hosts! We'd return any time.

A great experience with fantastic food and super nice hosts. Gladly again at any time. Un'ottima esperienza con cibo fantastico e padroni di casa super gentili.Volentieri di nuovo in qualsiasi momento.

The experience was wonderful. Paula was delightful as well as engaging. The local walking tour was informative and the cooking experience was great as well. Paula and Marco are delightful and I would recommend this experience to anyone. Thank you so much Paula and Marco.

Sam Brindley

 - 

March 2023
€129.00 per guest
€64.50 per child
Where
You'll receive the exact address after the booking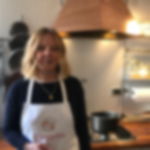 Paola
Cesarina from 2018
Location: Parma    Languages: English, French, Italian
Cesarina Paola welcomes us to her characteristic apartment in the Oltretorrente neighborhood or, as they say in Parma, "di là dall'acqua" (beyond the river), in one of the hamlets that overlooks the Ducal park. It is a small paradise, a stone's throw from the center, immersed in the tranquility and greenery of the park. At Paola's home, we discover her great passions: fashion (she is a fashion designer by profession) and cooking, an interest she has been cultivating since she was just a child. Our Cesarina loves to experiment and sample various types of dishes, enhancing the flavors of the local cuisine, adding a pinch of imagination to the classic tradition. "The locally produced staple foods are indispensable ingredients for me and dishes prepared at home transmit the warmth of my family." Her favorite recipes? Erbazzone (a savory pie of greens), savarin di riso, tortelli d'erbetta al burro fuso e parmigiano Reggiano (herb-stuffed pasta pillows drizzled with melted butter and grated Reggiano parmesan), la Duchessa ... all served on a cheerful and colorful table. Paola takes care that all is perfect down to the minimum detail. "My profession always influences me!"
Experiences you may like
FAQ
Families and solo travellers welcome