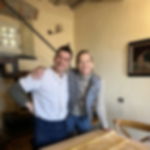 Sarah & Massimo
Cesarina from 2023
Spoken languages: Italian and English
Good to know
 I offer vegetarian alternatives
Hi from Sarah & Massimo!
We're Sarah and Max, passionate about traditional Italian cuisine. Our menu showcases the best of Liguria and Emilia Romagna. Join us in 5 Terre for a delicious dining experience!SARAH: "I am not the typical Cesarina as I am American. I lived 30 years with an Italian grandmother, my lovely mother-in-law Nonna Silvana, who passed on her love for Ligurian cuisine to me. I would like to share the memories of the aromas and flavors of her cuisine and honor her by preparing the recipes she taught me, such as pesto with croxetti, rice cake, stuffed vegetables and the traditional mesciua soup."MAX: "Hello there, I'm Max and I'm a "sfoglino" - an expert in the art of rolling out fresh pasta using just my rolling pin and hands. If you share my passion for fresh pasta, I'd love to show you, your friends, and your family how to make the tagliatelle and stuffed pasta that are typical of my region. And who knows, perhaps we can sit down together and savor the delicious results of our hard work!"
Experiences
Reviews
There are no reviews yet.
Where
You'll receive the exact address after the booking
Meet other hosts in the same city