Rialto Market Tour and Cooking Class in the Heart of Venice
5.0
Follow your Cesarina in a local market tour, challenge yourself with a hands-on cooking class and enjoy an authentic Italian meal with the recipes prepared during the class
Your menu
Traditional appetizers but with modern inspiration
Home made pasta seasoned with seasonal products from the market
Seasonal dessert following our inspirations
Join me on a culinary adventure in the heart of Venice! As a local foodie, I'm excited to show you the best of Venetian cuisine and take you on a visit to the famous Rialto market.
We'll start our day by exploring the colorful stalls of the market, where we'll hand-pick the freshest ingredients for our cooking class. From locally caught fish to aromatic herbs, we'll gather everything we need to create authentic Venetian dishes.
Next, we'll head to my traditional Venetian home, where I'll share with you my family's traditional recipes and teach you how to make delicious appetizer, home made pasta as well as other classic Venetian recipes.
In my kitchen, you'll learn the techniques and tips that have been passed down for generations, and we'll work together to creat
Reviews
Cesarine - Rialto Market Tour and Cooking Class in the Heart of Venice
We had the best time with Giulia and Silvia. The experience we had cooking and laughing was the highlight of our entire Europe trip. It was very special to be envited into a local Venetian home. We can't wait to get home and cook pasta!

Ciao from Texas

 - 

May 2023

Giulia created a wonderful experience for our group. The recipes were easy to follow and I believe I will be able to reproduce at home. I love that she showed us how to make coffee in a Moka pot. Now I can bring this home as well. She was welcoming and accommodating. She followed up by sending us pictures of our class and recipes. I highly recommend Giulia and hope there will be an occasion to meet again.

Guliana was a wonderful host. I felt very comfortable in her beautiful home. The recipes are very easy to follow at home. I would highly recommend this experience

The best activity !! We really felt like home with family and friends, excellent food

Giulia is the best teacher!!! She is so nice and the experience is unforgettable. We took the cooking class with my mother (70) and daughter (10) and the three of us enjoyed it very much and learned a lot. Having the Opportunity of Meeting an Italian chef in her home and visit a local household is priceless Thanks J Giulia!

Get your guide

 - 

May 2023
€189.00 per guest
€94.50 per child
Where
You'll receive the exact address after the booking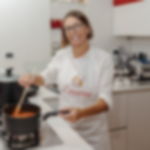 Giulia
Cesarina from 2018
Location: Venice    Languages: English and Italian
Venice is a unique place: floating on a lagoon with a network of thousands of canals. Rich in history and culinary tradition, it is a city of art, forged from different pasts and cultures, with profound ties to both the land and the sea. The ancient city is also home our Cesarina, Giulia. Her cooking reflects her regional and family traditions made even more unique by a modern twist with her passion and expertise in local and seasonal ingredients. Giulia: "For me cooking is not a journey through youth but rather onwards into maturity. My childhood was spent in my grandmothers' kitchens with the aromas and flavours of two different Italian cultures; Born in Turin with mother from Mantua and a Venetian father, I grew up around my grandmother in Mantua, with the scent of pumpkin, rolling homemade pasta, and in Venice with the sharing culture of Cicchetti (aperitivo finger food). Polenta, however, was common to both regions although in Mantua it had a yellow tinge and stark white colour in Venice".
Experiences you may like
FAQ
Families and solo travellers welcome