Candlelight with a panoramic view of the strait
5.0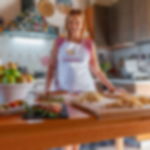 Spoken languages:  Italian and English
Dining experience: take a seat and enjoy an authentic Italian meal with a local Cesarina
Your menu
Romantic dinner out of the box? your Cesarina of the heart, Antonella, turns into Cupid. You want to spend a romantic evening, with little surprises, ( for example, little gifts between courses, or dessert with surprise ) to surprise your partner even more.
I would start with elegant and refined hors d'oeuvres of sea or land (you will be the one to choose first),which we will accompany with a romantic pink grapefruit or red fruit cocktail, and for those who don't like cocktails there are always bubbles. We will continue with fresh homemade stuffed pasta in the shape of roses or hearts. To continue with main course with side dish, and a beautiful cake, all with a Valentine's Day theme. To conclude bitter digestif and coffee.
Reviews
Cesarine - Candlelight with a panoramic view of the strait
We had a fabulous experience with our Calabrian hosts for a 4 course dinner. We got to see momma make the food in front of us. Their hospitality was the best. We were treated like family. The food was delicious. We thoroughly enjoyed our experience and appreciate our local family.

This was an experience I'll carry with me for the rest of my life! Antonella and her family were so beautiful and welcoming, I truly felt at home. I admire Antonella and her knowledge and passion for traditional Calabrian produce and recipes. It is an experience you cannot miss if visiting the wonderful Reggio Calabria. The food was incredible, the company was heartwarming and the experience in total - I cannot rate more highly. I'm not sure what else to say, other than thank you with all my heart again to Antonella for this experience. With love, Gabby from Australia!

We had a great experience. Antonella shared her home and her cooking knowledge!

This is the most amazing experience that someone can have while traveling. Antonella is an amazing teacher who welcomes you in to her home & her family. We learned how to make the most delicious gnocchi & were able to try 3 different sauces. Antonella is a fantastic teacher who is able to explain to any level cook. She was able to overcome any hurtles, including language, to make it the best experience of our Calabrian trip! This experience exceeded our expectations and immersed in the Calabrian home. This is a must for anyone visiting in Calabria!

Esperienza indimenticabile con i miei amici tifosi comaschi ai quali ho voluto fare una sorpresa in occasione della trasferta a Reggio Calabria. Accoglienza molto cordiale, ambiente top (solo la vista dal balcone sulla Sicilia meriterebbe di tornarci) ma, ancor di più…, pranzo da leccarsi i baffi. Complimenti ad Antonella e Giovanni!

Pipty Boys Como

 - 

May 2022
€95.00 per guest
€47.50 per child
Where
You'll receive the exact address after the booking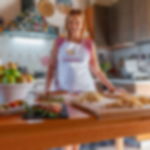 Antonella
Cesarina from 2018
Location: Reggio Calabria    Languages: Italian and English
In the heart of the Mediterranean, in the deep south of Italy, there is a corner of light, sea and poetry. We are in Reggio Calabria, whose waterfront offers one of the most scenic and beautiful walks on the Italian peninsula. Here, you can inhale the scents of the sea, admire the unmistakable skyline of Etna and enjoy the sunset over the Strait of Messina. Just a few steps away from the historical town center, we meet Antonella. Our Cesarina welcomes us into her cozy home that has a panoramic terrace overlooking the sea. At Antonella's table, we can discover the typical dishes from the Calabrian tradition, which include strictly homemade pasta, such as maccheroni al ferretto. The colors and flavors come from both land and sea. There are cured meats accompanied by vegetable preserves, eggplant and other vegetables under oil and dried tomatoes. Finally, there are the desserts and liqueurs. Here, bergamot, with its unmistakable aroma, takes the spotlight, making it highly sought after.
Experiences you may like
FAQ
Families and solo travellers welcome