Discover local products with a street food tour or a visit to a local producer
Your menu
On a sunny day, we'll take a walk to old town of Bari. After visiting the church of St. Nicholas, the patron saint of Bari, we'll have a snack at the bakery to taste the famous focaccia, which has been a symbol of quality for the bakery since the 20th century. Then, we'll explore the streets of the old town to admire the sale of local products such as 'sgagliozze', a fried polenta that we'll taste while ladies fry them, orecchiette, a typical Apulian pasta that we'll see being processed and sold. Finally, we'll visit "Venezia 40" and taste hot panzerotti while enjoying the view of the sea in Bari. We'll say goodbye with the promise to see each other again.
Reviews
There are no reviews yet.
€110.00 per guest
€55.00 per child
Where
You'll receive the exact address after the booking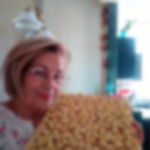 Fernanda
Cesarina from 2022
Location: Bari    Languages: Italian and English
At Cesarina Fernanda's home we can find the variety and genuineness of the typical dishes of the Murge area: a cuisine made up of simple and tasty dishes, local products such as the rich range of hand-made cheeses, traditional orecchiette and seasonal field vegetables .
FAQ
Families and solo travellers welcome