Welcome to Venezia!
The stunning canals of "La Serenissima" are full of history, which is the root of its rich and fascinating culinary heritage. It's hard to find Venice's heirloom recipes in the local restaurants, but in home kitchens, you'll discover a treasure trove of secrets such as Zaetti biscuits, "vulcano" risotto and "saor" sauce.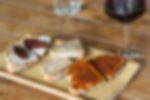 All the experiences
Invisible test block for SSR
We want to create real connections between travellers and locals in Italy.
Our national community of home cooks welcome travellers into their own homes for authentic culinary experiences. With us, you'll discover long-lost family recipes, market-fresh ingredients and unforgettable cooking secrets. This is the most authentic way to learn what Italian food is all about.
Every host in our community is carefully selected for their cooking and hosting excellence, so you're in good hands. Pull up a seat and enjoy a truly Italian welcome.
Meet our hosts