Discover local products with a street food tour or a visit to a local producer
Your menu
Are you ready to be taken on a breathtaking tour? "Luci d'artista" in Salerno. The city is dotted with bright artworks, which make the streets of the historical center shine. Yummy food, street markets and much more. Don't miss this magical Christmas tour. I'll show you around the city, from the Villa Comunale to the "centro storico" picturesque alleys, packed with craft shops and delicious, traditional foods.
Reviews
Cesarine - Luci d'artista food tour
I recently had the pleasure of attending a home cooking/lunch experience in Florence, and I must say it was an absolute delight. From the moment we arrived, we were greeted with warm smiles and genuine hospitality. The hosts, Silvia and Angela, were truly amazing and made the entire experience memorable. One of the things that stood out the most was the incredible food. Silvia's passion for cooking was evident in every dish she prepared. Despite the language barrier, her love for food transcended any communication difficulties. The flavours that she brought to life were simply fantastic. Each bite was a burst of authentic Italian goodness that left us craving for more. What made this experience even more special was the emphasis on using local produce. Silvia and Angela were committed to providing us with a truly local experience. Everything we ate was fresh, flavourful, and free from any processed ingredients. It was a true celebration of the region's culinary treasures. Beyond the food, Silvia and Angela's warm and friendly nature made the experience even more enjoyable. Despite Silvia's limited English, she made us feel welcome and comfortable throughout the entire meal. Her infectious enthusiasm for cooking and sharing her culture with others was truly heartwarming. I cannot recommend this home cooking/lunch experience enough. If you're looking for an authentic taste of Florence, this is the place to be. Silvia and Angela's commitment to quality, their passion for cooking, and their genuine hospitality make it an experience not to be missed. Thank you, Silvia and Angela, for creating such a wonderful and memorable experience. Your dedication to showcasing the best of Italian cuisine and culture truly shines through. I will cherish the memories and the flavours for a long time to come.

Tammy Barton

 - 

August 2023

Perfect birthday gift for my 50th birthday! This evening was one of those evenings that has left a lifetime memory in our hearts. How honoured we are that you have invited us to your beautiful home and let us experience a taste of true Italian food & tradidion! It already started with the warm welcome from Angela and you: we immediately felt at ease and how wonderful it was that you wrote me a birthday card! [heart] It was one loveable night where we got an insight in the Italian cuisine, what to do (and what NOT to do - like drinking cappucino in the evening :-)). We had a delicious meal and you taught us so many things that we'd love to teach our children & friends as well! But most valuable was that you shared your values with us - what's important to you and part of the Southern Italian culture: sitting around the table with friends, share stories, learn from each other, laugh, learn from the culture and history. And all that while enjoying delicious Italian food. We sure hope to get back one time to learn how to cook fish in the Italian way! Grazie mille, grazie mille, Silvia & Angela!

Ingrid & Joris

 - 

August 2023

From the moment we stepped into the family's warm and inviting home, we felt an overwhelming sense of welcome and hospitality. Angela and the whole family exuded passion and expertise in their craft, guiding us through the art of making delicate gnocchi, silky tagliatelle, and a divine tiramisu. The hands-on experience was truly remarkable, allowing us to immerse ourselves in the traditions of Italian cuisine. Each step was carefully explained, and the family's patience and enthusiasm made the learning process enjoyable for us. We cannot recommend this Italian cooking class enough – it was an unforgettable experience that left us inspired to recreate these dishes in our own kitchen. We cannot wait to come back to learn how to make ravioli!

We had the most enjoyable evening with Silvia, Angela and even Silvia's husband. They made us feel so welcome in their home and went above and beyond serving us authentic Italian dishes with delicious wine and liquor as well as allowing us to create our own tagliatelle, gnocchi, caprese salad and tiramisu. They shared valuable secrets with us, great recommendations for where else to visit on our trip as well as a few Italian terms! This experience was a highlight of our trip, and the best tagliatelle we have ever eaten! Would highly recommend to anyone wanting to do this and experience Italian culture at its finest. Thank you so much!!

Ruby and Grace

 - 

July 2023

Silvia is an amazing host and a magician on the kitchen. She kindly shared with me some secrets of Italian cuisine and gave the opportunity to feel part of her house. Under her guidance, I was able to cook an authentic tiramisu and prepare from scratch real pasta. Her generosity of sharing knowledge and warmth of accepting me made me feel truly Italian for the evening. I highly recommend this experience to those who would like to communicate with your host heart to heart. I am happy to go back, enriched with some cooking tips and a new friend.
€110.00 
per guest
(€55.00 

per child)
€110.00 per guest
€55.00 per child
Where
You'll receive the exact address after the booking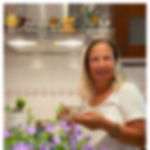 Silvia
Cesarina from 2022
Location: Salerno    Languages: Italian and English
"My cuisine ranges from appetizers to desserts with great versatility. For some years I have studied the art of vegetarian and vegan cooking to meet the dietary needs of my children. I revisited typical dishes of the Campania tradition in a vegetable key, without losing sight of recipes and original flavors. I also cultivate with great passion the collection of antique English porcelain, which I love to present to my guests both at breakfast and at the classic tea time. I live to cook and have extreme respect for my guests, of whom I do not miss to grasp specific needs and unusual food tastes ".
Experiences you may like
FAQ
Families and solo travellers welcome