Dining experience: take a seat and enjoy an authentic Italian meal with a local Cesarina
Your menu
I will prepare the requested menu at home and bring it upon request. The menu will be prepared according to seasonality because the vegetables will be harvested directly from my garden. I will give you a number of options and the final menu will be chosen together. The dishes will range from Neapolitan lasagna to a rice sartù, to an eggplant or zucchini parmigiana, to Cilento-style eggplant or tuna meatloaf or cod soup etc.
Reviews
There are no reviews yet.
€95.00 per guest
€47.50 per child
Where
You'll receive the exact address after the booking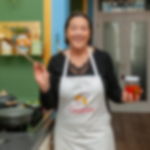 Antonia
Cesarina from 2019
Location: Salerno    Languages: Italian, English, Spanish
Maria Antonietta lives in Salerno, a seaside city, where in summer you can reach the beach, or visit the surroundings, and in winter with your nose up to admire the lights, among the most beautiful in Italy. "My cuisine is traditional, with attention to the choice of natural products, which come from my garden. The use of typical and seasonal products distinguishes the choice of menus, a cuisine possibly at km 0."
Experiences you may like
FAQ
Families and solo travellers welcome