Umbrian Countryside Cooking Class: taste and tradition
5.0
Cooking class: learn how to cook Italian recipes and taste the dishes prepared during the class
Your menu
Mixed platter with vegetables, cold cuts, torta al testo an mixed bruschetta
Umbricelli with truffle
Jam tart
I look forward to hosting you for an unforgettable culinary experience rooted in Umbrian tradition, set amidst a charming countryside landscape, surrounded by nature and enriched by the produce from my garden and my animals. During the cooking class, depending on the season, we'll use freshly harvested vegetables, farm-fresh eggs, truffles, asparagus, mushrooms, and blackberries. In addition, we'll have chickens and rabbits raised on the ground, nourished with natural feed. My open-concept kitchen boasts breathtaking views where you can admire spectacular sunsets. I have a large wood-fired oven perfect for preparing pizzas, cakes, and desserts. At my home, you'll breathe in the pure air of the countryside and feel a sense of serenity and joy.
Reviews
Cesarine - Umbrian Countryside Cooking Class: taste and tradition
If you're looking for a welcoming culinary experience in the heart of a family home with three generations of Umbrian locals then look no further. We made pasta, torta de testado, dessert (forget the name!) and feasted like kings on homemade truffle sauce, bruschetta, meats & cheeses, chicken pate, jams, processco, homemade wine, limoncello and more. Total food miles about zero km. Everything came from pretty much out the window. And as for the views and warm hospitality of Sabrina, Lella and Alessio - they were both a dream. Thank you so much for a special afternoon.
€129.00 
per guest
(€64.50 

per child)
€129.00 per guest
€64.50 per child
Where
You'll receive the exact address after the booking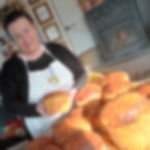 Sabrina
Cesarina from 2022
Location: Piegaro    Languages: Italian and English
"My kitchen is open space, while I cook I like to chat with my guests, I cook everything from homemade pasta, to main courses and side dishes, desserts, pizzas in a wood oven, grilled meat, both in winter and summer. All my dishes are cooked with zero km products, I prefer to cook and eat seasonal fruit and vegetables, I have a large vegetable garden, orchard, olive grove, vineyard, animals raised outdoors, all strictly organic. I like making preserves of vegetables, vegetables and fruit, to enjoy my products even out of season ".
Experiences you may like
FAQ
Families and solo travellers welcome