Lunch or Dinner in Souk el Ballarak (BALLARO' market)
5.0
Traditional Italian Menu: starter, pasta and dessert
Your menu
Argentiera cheese
Pasta ncasciata (with Cacio cheese) with broccoli and anchovies
Orange sorbet
3-course menu (starter, pasta, dessert) with wine included.
Whether it's lunch or dinner, you will be welcomed in my Atelier in the heart of the Souk el Ballarak (Ballarò market). I will welcome you with a welcome drink accompanied by Palermitan delicacies and homemade bread. As an appetizer you will find the caciocavallo cheese with vinegar, oil and oregano. As a first course a fresh pasta typical of the season with cauliflower, onion, saffron, anchovies all put in the oven to brown. For dessert, a fresh orange frost with organic Sicilian oranges. The smile, the tales and the songs of tradition will accompany you for an experience made of taste and love for your land. The products used to create the dishes you will taste are fresh and at 0 km. The wine you will sip comes from organic Sicilian cellars. Attention to raw materials and organic products are my strong point.
Reviews
Cesarine - Lunch or Dinner in Souk el Ballarak (BALLARO' market)
Rosa is the kind of person you wish was your neighbour so you could pop by her for a chat and some delicious food in her cosy home every week. My husband and I enjoyed every minute of the time we had in her company, she is a great teacher and got us involved in the cooking from the start. Cooking some of her family recipes was great fun and we learnt so much. I will look back at our evening with her as one of the highlights of our vacation.

What a wonderful experience with Rosa and her partner Fabio. Such great hosts. I was lucky to be the only participant so I was able to help Rosa prep many of of the ingredients. I have a new love of artichokes and a great discovery of sheep's milk riccotta! Rosa is so enthusiastic! What a great evening to start my visit to Palermo!

I have such a lovely evening with Rosa. She is a superb teacher and very patient with my clumsy efforts to roll the pasta shape! We made the most delicious three-course meal together. Rosa is great company and an excellent singer! Highly recommended.

5 Star Experience

 - 

March 2023

Thank you Rosa for an incredible evening! We felt so very welcome in your home and learned so much about Sicilian cuisine and the flavours of the seasons. We appreciated the special diet considerations, which can be challenging in other cooking classes. The most wonderful song to close out the evening- you have a beautiful heart, home and family and it shines in your cooking! Grazie mille!

Anne Marie & Ian

 - 

February 2023

Semplicemente meravigliosa. Che dire Rosa è una boccata d'aria fresca, una padrona di casa eccezionale e una cuoca straordinaria. Ho passato una giornata splendida, raccomando questa esperienza a chiunque visiti Palermo e voglia vivere una giornata indimenticabile.
€65.00 per guest
€32.25 per child
Where
You'll receive the exact address after the booking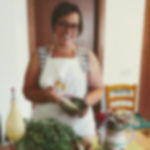 Rosa
Cesarina from 2021
Location: Palermo    Languages: Italian and English
Rosa welcomes her guests to her apartment in the heart of Ballarò. "I love to cook and experiment, but in the end I love to cook and eat Sicilian, using Sicilian products at Km 0. What I cook was taught to me by my mother, by aunts and grandmothers acquired over time. I am a singer and actress, so I love to sing while I cook and entertain my guests with songs and stories of our Sicily bedda. At my table, simple and well-finished, seasonal dishes, with attention for vegetarians and gluten intolerant. "
Experiences you may like
FAQ
Families and solo travellers welcome