Food Tour: discover the best places where to taste the finest local food & wine
Your menu
Discover an ancient story rooted amidst vines and Roman ruins. Immerse yourself in a fascinating adventure rich in history, with connections to Ulysses and Pliny the Elder, as you explore two centuries-old wineries and vineyards. The winemaking tradition dates back over a hundred years, with grapevines cultivated using both trellis systems and the traditional high and low Puteolan methods.
Only natural manure and green manure are used in cultivation, avoiding chemical fertilizers. The heart of the estate is the historic vineyard, featuring nearly century-old vines that yield high-quality wines. Explore various cellars, including one where old vintages rest within an ancient Roman rainwater cistern. Indulge in wine tastings paired with warm focaccia, local cheeses, and cured meats.
Reviews
Cesarine - Visit to the vineyards
Amazing experience, amazing hospitality, amazing food! Anna is one of a kind...perfetto in every way !

Anna is an amazing host and Cesarine. We felt completely at home in her kitchen and will cherish this experience for a lifetime. I highly recommend this cooking class! High quality ingredients' delicious appetizers, main entree, and dessert were bellissimo! We love Anna!

Jeri Bruns

 - 

September 2023

First if there is another review from us on here its because Anna had us rate her on the spot in front of her mid way through the tour. Anna was very passionate about her town Napoli, and took us to some good food spots and introduced a yummy pastry called a graffa. But she drives you around in her car and the car was dirty and stinky. She spoke little English and we knew little Italian so we had to use google translate the whole time to communicate. From one of the spots there was extra food but she took it home which was a little confusing considering we are paying for the food tour lol. And at the end she just dropped us off at a random metro/transportation station that we do not know how to navigate. It was definitely an experience and one ill never forget because of its chaoticness which I can appreciate but wouldn't do it again. (Side note: we love to adventure and we are not complaining, it was a rollercoaster experience with lots of highs and lows !)

Alyssa and Dian

 - 

August 2023

Anna is very passionate about her city and is a cheerleader when it come to enjoying the beauty of her city with you. That being said her tasty food tour moves fast, so holding on as your embrace the flavors of Naples

Alyssa and Dian

 - 

August 2023

We enjoyed a wonderful evening and meal with Anna! Best food we have experienced in our tour of Italy! All very fresco, simile ans tasty! Thank you Anna for such a wonderful evening.

Diane ans John Lough

 - 

August 2023
€189.00 
per guest
(€94.50 

per child)
€189.00 per guest
€94.50 per child
Where
You'll receive the exact address after the booking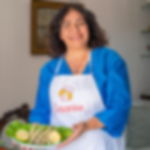 Anna
Cesarina from 2018
Location: Naples    Languages: Italian, English, French
Anna, our Cesarina, welcomes us with warm hospitality to enjoy a Neapolitan culinary experience. Her passion for cooking was cultivated through her maternal grandmother, of Tuscan origins. If anything ever went wrong, she would say, "Now we'll prepare a little something to eat and everything else will fall into place!" This is just how good cuisine, prepared by Anna, became a way to ward off everyday difficulties, by creating moments of joy and sharing. The perfect place to do just that is right here enjoying a meal at the home of our Cesarina!
Experiences you may like
FAQ
Families and solo travellers welcome