Cooking class in the garden in the Cinque Terre
5.0
Cooking class followed by lunch or dinner with the recipes prepared during the class.
Your menu
Traditional mix appetizers
Home made pasta
Almond cake
In this three-hour cooking class, led by an experienced chef, you will discover the secrets of traditional cooking in La Spezia in an authentic Italian home, learn how to make handmade pasta and pair it with the freshest, seasonal ingredients!
You will be happy to take home your new culinary skills and amaze your guests!
Reviews
Cesarine - Cooking class in the garden in the Cinque Terre
What an amazing experience!! Definitely a highlight of our trip! Daniela is a great teacher and host. We were welcomed into her home so warmly. It was such a joy to learn from her and and get a feel for different recipes and traditions of hers and the region. We were well fed with multiple courses and had lovely wine and homemade limoncello. An added bonus for my husband was getting to watch football/soccer with Daniela's husband. Now to plan a night to host my friends and make them homemade ravioli and tiramisu!!

It was an incredible experience with Daniela and her amazing husband. They taught us how to create gnocchi from scratch and tiramisu and it was by far the most incredible meal we ever had. They were so warm and welcoming, kindest people ever. I would recommend to take her class 100% if we are ever back in Italy we will take her class again. - ramona

Daniela was absolutely amazing! Definitely the highlight of my trip. She made the experience unforgettable and the food we ate was amazing. Highly recommend!

Just amazing!!! We met Daniela in La Spezia at 5pm. We were initially suppose to go to the markets at the beginning of our tour but when Daniela took us there, they were closed. So, instead she took us for a walk around La Spezia to show us the main streets. We then travelled in her car to go to her place and she stopped at a gelato place on the way and bought us all a gelato since we were unable to go to the markets. So considerate and the gelato was absolutely amazing. Best pistachio gelato we have tried! After arriving at her beautiful home she gave us a tour, introduced us to her cats and gave us some spritz and chips to pick at while we spoke about her house and family. So, so, so generous and welcoming. We felt like part of the family. The food was absolutely delicious. Together we made and ate tiramisu, gnocchi, testarolo and focaccia. Everything was just perfect! The focaccia so tasty and crunchy, the pesto testarolo delicious, the gnocchi so fluffy and light, and the tiramisu so creamy and fresh. After all of this amazing food and generosity we then got to try some local wine, grappa and limoncello. This was an experience that we'll never forget! Thank you for showing us your Italian traditions and home. We highly recommend Daniela. Not only is she a beautiful person but she is also so knowledgeable and has such a love for food.

Jess Barrett

 - 

September 2022

Tolles Essen und lustige Gastgeber
€129.00 per guest
€49.50 per child
Where
You'll receive the exact address after the booking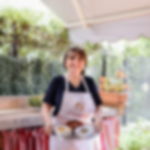 Daniela
Cesarina from 2018
Location: La Spezia    Languages: Italian and English
The city of La Spezia is located practically on the border between Liguria and Tuscany. It is the ideal starting point to visit the splendid Cinque Terre and other characteristic villages in the area, such as Lerici and Porto Venere. With the sea in front of the city and the mountains behind, it is fascinating to admire it from above from San Giorgio castle, and experience its unique flavor through its culinary offerings, which reflect a combination of land and sea, evolution and experimentation. Seated around Daniela's table, you'll experience a procession of traditional recipes. Our Cesarina offers the classic cuisine of La Spezia, the result of the fusion of different traditions from the neighboring regions. Daniela's prepares her dishes using simple ingredients. However, once combined, they give life to both strong and delicate flavors at the same time, recipes like 'sgabei' – raised bread dough that is cut into strips, fried, stuffed with cheeses or locally cured cold cuts, 'muscoli' (mussels) in a variety of versions and, of course, an absolute must, 'pesto' (sauce made from basil).
Experiences you may like
FAQ
Families and solo travellers welcome