A King's Lunch: His Majesty the Ragout
5.0
Special Italian Menu
Your menu
Every Neapolitan on Sunday morning thanks Ferdinand of Bourbon because they wake up to the smell of ragù cooking for hours; without Ragù what Sunday is it? Gragnano's rigata pasta will be caressed by the noble Parmesan-covered sauce, and the meat that gave it its flavor will go with the expertly sautéed friarielli....Good Sunday to all
Reviews
Cesarine - A King's Lunch: His Majesty the Ragout
Francesco e sua moglie sono una coppia meravigliosa e fanno venire voglia di sognare. Mi sono subito sentita a casa ed è stato interessante ascoltare tutti i consigli sulla ricetta che avevano scelto per me, anche perché non vedo l'ora di rifarla! Un'esperienza che consiglio a tutti di regalarsi.

Eugenia and Francesco were the perfect hosts! The cooking class was relaxed and fun and I was able to pick up lots of great tips on how to make the perfect pasta and tiramisu. It was the absolute highlight of my trip to Italy and I highly recommend it!

Eugenia and Francesco were wonderful hosts! They were warm and welcoming, offering snacks and local wine. They freely shared knowledge and techniques then allowed us to show our learning. It was wonderful to taste the fruit of our collective labor in their kitchen. Overall, they made this great experience in learning to cook traditional Italian specialties and being/feeling local. Grazia mille Francesco and Eugenia!!

Great hosts and great food.

Ottimi padroni di casa, splendidi cuochi. Esperienza bellissima!
€95.00 per guest
€47.50 per child
Where
You'll receive the exact address after the booking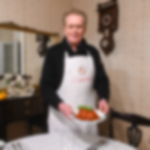 Francesco
Cesarina from 2018
Location: Naples    Languages: Italian and English
Visiting the historical city center of Naples means passing through twenty centuries of history. The streets, squares, churches, monuments, public buildings and castles are a treasure trove of artistic and historical treasures. Moreover, the aromas of the local cooking are the ideal introduction to a place that can truly enchant anyone. You will also be enchanted when you enter our Cesarino's eighteenth-century building located in the heart of the city. The structure houses a Vanvitelli staircase, as well as the apartment where Cesarino Francesco lives. His strong curiosity for the culinary arts and meeting his wife, who is also a lover of good food, has led him to experiment with new recipes, without ever forgetting the love and bond he has for and with the local gastronomic traditions. Traditions like the ever- present ragù at Sunday lunch (because, for Neapolitans, Sunday is not Sunday without ragù) and the flavors of the sea in the dishes prepared during the hot summer months (always refreshing, light and delicate).
Experiences you may like
FAQ
Families and solo travellers welcome